In honor of Kabuki Syndrome Awareness Day on October 23, we invite you to meet Lyla, one of our ambassadors for this year's Festival of Trees.
Lyla is a first grader who was excited for the start of school, as school is the place where she can showcase her eagerness to learn and her naturally inquisitive nature.
"Lyla brings a lot of positive energy wherever she goes and loves to engage with others, to sing, dance and do anything related to arts and crafts," her mom Mysha says.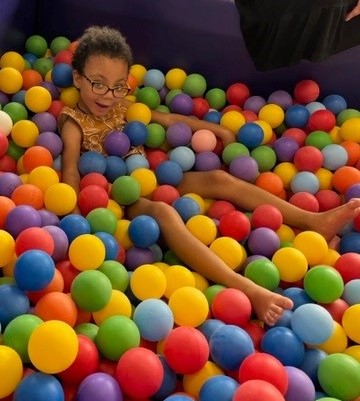 Lyla hopes to one day work with children, either in a classroom or daycare setting. Lyla has Kabuki Syndrome, a rare disease characterized by distinctive facial features, growth delays, intellectual disability, and skeletal abnormalities.
This year, she and her mother participated in a documentary to raise awareness about Kabuki syndrome, which is just another example of Lyla's caring and friendly nature.
Her favorite color is yellow and she has a favorite number—it is eight! Lyla is looking forward to saying hello to everyone at the upcoming Festival of Trees, taking place Nov. 24-26 at the Maryland State Fairgrounds. Lyla, we are excited to see you, too! Click here to purchase your Festival of Trees tickets now.