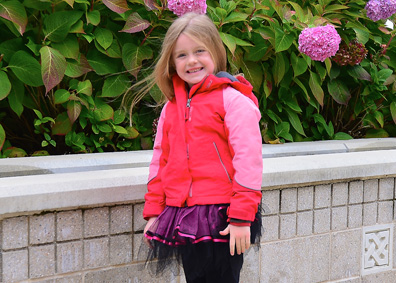 When Ellie was three years old, she was diagnosed with a rare mitochondrial disease—a degenerative disorder that affects her brain and spinal cord. Doctors at another hospital told Ellie's parents nothing could be done—to take their daughter home and love her.
The family was devastated to learn that their little girl's mobility would steadily decline, and that many with this disorder do not live to adulthood. Already she was losing the ability to walk.
Then, they found Kennedy Krieger, where a team of doctors found reason to be hopeful. They placed Ellie on vitamin therapy to boost the health of her mitochondrial cells and slow the onset of symptoms. Today, at age six, Ellie is beating the odds. She's in first grade and living symptom-free.
"We are so grateful to Kennedy Krieger for saving our daughter and returning her ability to walk," says Beth, Ellie's mom. The family has not only donated to the Institute, they've also established a fund to help defray the cost of similar treatments for other families.
Kennedy Krieger restored hope for Ellie and her entire family. "We went from having zero hope to having her live a completely normal life," says Beth. "The attitude at Kennedy Krieger was amazing—they never give up on kids."