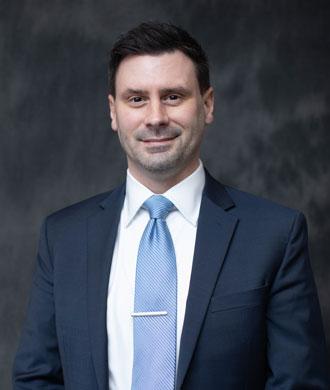 Physician, International Center for Spinal Cord Injury (ICSCI)
Kennedy Krieger Institute
801 North Broadway
Baltimore, MD 21205
United States
About
Dr. Edmiston is a physician for the International Center for Spinal Cord Injury (ICSCI) at Kennedy Krieger Institute. He is also an assistant professor of Physical Medicine and Rehabilitation at The Johns Hopkins University School of Medicine.
Education
After six years of service in the U.S. Army, Dr. Edmiston completed two bachelor of science degrees in Biochemistry & Biophysics and Exercise & Sport Science from Oregon State University in 2006. He earned his medical degree at the Oregon Health and Sciences University in 2010. His intern year was completed at The University of Washington and Harborview medical centers in Seattle Washington. Dr. Edmiston completed Physical Medicine and Rehabilitation residency at The Johns Hopkins Hospital in Baltimore, Maryland in 2018. He then completed fellowship training in Spinal Cord Injury Medicine at Kennedy Krieger Institute and Johns Hopkins in 2019.
During his residency at Johns Hopkins, Dr. Edmiston received multiple awards including the Hopkins Healer Award for outstanding patient care as a resident in both 2016 and 2017. He additionally was awarded the distinguished Frank L. Coulson Award for Clinic Excellence in 2018. He served as residency Chief Resident in from 2017-2018 during the department's successful growth and restructuring efforts.
Following graduation from fellowship in 2019, Dr. Edmiston began work as a Spinal Cord Injury attending for the Los Angeles County Department of Health Services (LAC DHS) at Rancho Los Amigos National Rehabilitation Center, where he worked as a hospitalist on the acute spinal cord injury unit. He was the acute inpatient clinical instructor for the University of California Irvine Spinal Cord Injury Medicine Fellowship. He served on the Bioethics Committee and the Rehabilitation Council. He worked as part of the Palliative Care Team during the COVID-19 Pandemic and staffed the outpatient spinal cord injury consult service for LAC DHS primary care network. His team was sought out by non-DHS health systems in Southern California for their clinical excellence. He was awarded the Nursing Star Award for Care by the hospital nursing staff, and he was featured in an article by LAC DHS for leadership and reinvigorating the spinal cord injury inpatient service. He was recognized for outstanding service upon his departure and return to Kennedy Krieger.
Dr. Edmiston joined the Kennedy Krieger team as part of the International Center for Spinal Cord Injury in January 2022. His primary focus is on the clinical care for people with spinal cord injury and supporting all aspects of their life-long recovery. Dr. Edmiston is actively involved in medical education as part of the Physical Medicine and Rehabilitation residency program at Johns Hopkins and the Spinal Cord Injury Fellowship's joint program between Kennedy Krieger and Johns Hopkins.
Research
Dr. Edmiston's research interests focus on improving clinical outcomes for people with spinal cord injury. He has been involved with several quality improvement efforts focused on opioid safety, improving rates of discharge to the community after injury, and integrating the multidisciplinary rehabilitation team earlier into a patient's hospital course. His other research interests include Acute Flaccid Myelitis, diaphragmatic pacing systems, spasticity, pain management, cardiovascular health in spinal cord injury, and provider education.