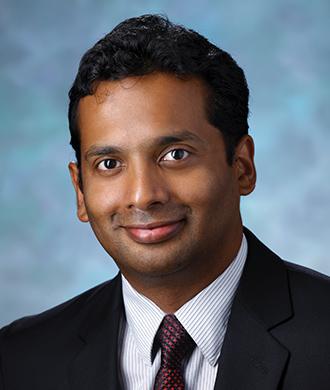 Medical Director of the Ortho-Cerebral Palsy Program
Kennedy Krieger Institute
801 N. Broadway, 4th Floor
Baltimore, MD 21205
United States
About
Dr. Ranjit Varghese is the medical director of the Ortho-Cerebral Palsy Program at Kennedy Krieger Institute. He is also a specialist in pediatric neuromuscular disorders at the Johns Hopkins Department of Orthopaedic Surgery Pediatric Division. Dr. Varghese's areas of clinical interest are the treatment of cerebral palsy and neuromuscular disorders. He also specializes in children's hip and foot disorders, including clubfoot, toe walking, Perthes Disease, and developmental dysplasia of the hip.
Education
Dr. Varghese earned his medical degree from Manipal University, India, where he also did his residency. He earned a master's degree in Health Science and Clinical Epidemiology from the University of British Columbia, Canada. His training includes fellowships in Pediatric Orthopaedics from the University of British Columbia and the University of Minnesota. He also went on to complete a combined Orthopedics Oncology fellowship at Harvard Medical School, Massachusetts General Hospital, Beth Israel Deaconess Medical Center, and Boston Children's Hospital.
Research
Dr. Varghese's research interests include cerebral palsy, hip disorders, and outcome evaluations.