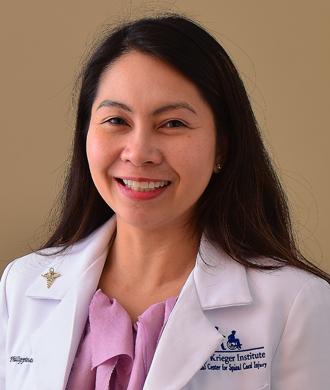 Physician, International Center for Spinal Cord Injury (ICSCI)
Kennedy Krieger Institute
801 N. Broadway
Baltimore, MD 21205
United States
About
Dr. Cabahug is the Director of the Spinal Cord Injury Fellowship Program and a physician for the International Center for Spinal Cord Injury (ICSCI) at Kennedy Krieger Institute. Also, she is an assistant professor of physical medicine and rehabilitation at The Johns Hopkins University School of Medicine.
Education
Dr. Philippines Cabahug earned her B.S. in physical therapy at the University of the Philippines in 1994, and her medical degree at St. Luke's-WHQ Memorial, Philippines in 2000. She completed a physical medicine and rehabilitation (PM&R) residency at the Philippine General Hospital in 2005. She was awarded a UN-Merck scholarship to pursue her postgraduate diploma in gerontology and geriatrics at the University of Malta in 2004. In 2009, she finished her internship in Internal Medicine at Atlanticare Regional Medical Center in Atlantic City, New Jersey. She completed her second physical medicine and rehabilitation residency in 2012 at Johns Hopkins Hospital and a fellowship in Spinal Cord Injury (SCI) Medicine at Johns Hopkins Hospital/Kennedy Krieger Institute in 2013.
During her residency training, Dr. Cabahug received numerous awards including the Hopkins Healer Award for Outstanding Resident in 2010 and 2012, and the Frank L. Coulson Award for Clinical Excellence in 2012. She served as chief resident from 2011-2012. She was actively involved in the PM&R team that won first place at the Johns Hopkins Achieving Competence Today (ACT) Program for their project titled "Omissions at Discharge, A Quality Improvement Project."
Dr. Cabahug has worked on several publications regarding Lean Six Sigma Quality Improvement Project focused on improving discharge paperwork. She is also an online contributor to "PM&R Knowledge Now," the online resource of the American Academy of Physical Medicine and Rehabilitation.
Upon completion of her fellowship, Dr. Cabahug joined the International Center for Spinal Cord Injury as a full-time physician. She received her board certification in PM&R and in Spinal Cord Injury Medicine in 2013. She is the director of Musculoskeletal Ultrasound (MSK-US) at KKI. She runs two MSK-US clinics at KKI– a musculoskeletal diagnostic clinic and an ultrasound-guided intrathecal pump access clinic.
Dr. Cabahug is actively involved in medical education as a faculty clinical instructor with the Department of Physical Medicine and Rehabilitation at the Johns Hopkins School of Medicine.
Research
Dr. Cabahug's research interests include spasticity management, aging in spinal cord injury, and musculoskeletal ultrasound.