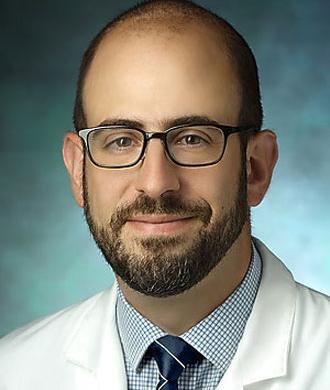 Research Scientist and Pediatric Neurologist
Kennedy Krieger Institute
707 North Broadway
Baltimore, MD 21205
United States
About
Dr. Elrick is a research scientist and pediatric neurologist in the Center for Genetic Muscle Disorders and Brachial Plexus Injury Clinic. He is also an assistant professor of Neurology at the Johns Hopkins School of Medicine.
Education
Dr. Elrick received a B.S. in Biochemistry from the University of Maryland in 2005. He then went to the University of Michigan Medical School where he completed his MD and a PhD in neuroscience in 2013. He returned to Baltimore for his training where he completed residency in Pediatrics and Child Neurology, followed by fellowship training in Neuromuscular Medicine at the Johns Hopkins Hospital. He joined the faculty at Johns Hopkins in the Division of Pediatric Neurology in 2019, followed by Kennedy Krieger Institute in 2022.
Research
Acute flaccid myelitis (AFM) is an emerging polio-like infectious disorder that causes paralysis in children. AFM has been linked to infection with enteroviruses, but little is known about how enterovirus infection causes the motor neuron toxicity that leads to paralysis. The Elrick laboratory uses human motor neurons derived from induced pluripotent stem cells to study the effects of enterovirus infection on motor neuron biology. Of particular interest is dysfunction of the nuclear pore complex, a pathway well-established to contribute to neurotoxicity in neurodegenerative disorders, and also known to be altered in the course of enterovirus infections. We are seeking to understand the role this pathway plays in motor neuron dysfunction or injury, and the extent to which it can be modulated therapeutically in the treatment of AFM. The laboratory is also pursuing related projects on pediatric disorders caused by genetic mutations in components of the nuclear pore complex, including acute necrotizing encephalopathy.
Dr. Elrick additionally leads several clinical research projects on AFM, including characterization of electromyography and nerve conduction study (EMG/NCS) findings in AFM; determining the utility of EMG/NCS in the management and prognostication of AFM; and studying long term outcomes for children with AFM who have undergone nerve transfer surgery or diaphragm interventions.
Related Links