Kennedy Krieger's 70-plus years of helping patients with physical and cognitive disabilities, combined with our newly expanded, world-class facilities, provides patients at the Center much-needed access to innovative rehabilitative and assistive technology services under one roof.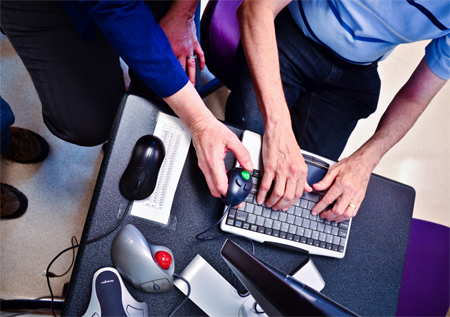 The Center for Genetic Muscle Disorders at Kennedy Krieger Institute is an interdisciplinary clinic dedicated to the diagnosis and treatment of a variety of muscle disorders, including muscular dystrophies (hereditary, progressive muscle diseases) and congenital myopathies (muscle disorders present at birth). 
Individuals with genetic muscle disorders face loss of muscle mass and strength, though the rate of progression and symptoms vary according to the type of disease. They face a range of challenges, which may include declining quality of life, shortened life expectancies and heart and breathing conditions. Since its inception in 2009, the Center has seen hundreds of patients from age 18 months to 92 years, and from 38 states and 16 countries/territories outside of the U.S.
How We Can Help You:
The collective expertise of the Center's staff provides these patients with a succinct and informed diagnosis and prognosis, as well as a unique perspective on how the disease will impact their day-to-day life. As leaders in their fields, medical professionals are able to work with patients to find practical solutions to the specific problems they are experiencing, as well as frequently slow the course of the disease. Specialists in the field of neurology, rehabilitative medicine, social work and genetics counseling are available at every clinic visit. In addition, for those patients with complex medical needs, pulmonology and cardiology physicians from Johns Hopkins participate in our clinic once a month.
Due to the collaboration between Kennedy Krieger's various programs, patients who visit the Center also have easy access to a variety of clinical services to help manage their symptoms and improve their quality of life, including physical therapy, occupational therapy, aquatic therapy and assistive technology.
The clinic has been endorsed by Parent Project Muscular Dystrophy, the largest foundation for Duchenne muscular dystrophy in the country, which has recognized the special strengths of Kennedy Krieger, including the interdisciplinary care, the emphasis on rehabilitation and the ability of patients to transition from pediatric to adult care within the same clinic.
Our Center features a unique collaboration between experts in genetic muscle disorders, research scientists and rehabilitation professionals. Key disciplines include:
Neurology
Pulmonology
Cardiology
Orthopedics
Endocrinology
Physical therapy
Occupational therapy
Genetic counseling
Nutrition
Social work