Health, safety and privacy are paramount for Kennedy Krieger Institute.
We are continuously monitor and respond to the changing public health environment.
Masking
Masking Masks are strongly recommended but no longer required in ALL locations at Kennedy Krieger Institute. This applies to all personnel, patients, students, research subjects and visitors
Telehealth/virtual visits
If you already have an appointment, there's no need to cancel.
Please call the clinic where you have the appointment (the number is on your appointment confirmation letter) to confirm if you should come in person, or if your appointment is through our telehealth system.
For new appointments, we will advise how the appointment will be delivered and provide easy instructions for all telephone or video appointments.
Our inpatient hospital continues to serve patients and is working hard to ensure the continued safety of our patients, families and staff members. Click here for more information about inpatient hospital admissions.
---
Health Alert:
Please tell a nurse, doctor, or other healthcare professional as soon as possible if you:
Have traveled outside the U.S. in the past 21 days
Have a fever, cough, shortness of breath, sore throat, chills, muscle aches, headache, diarrhea and loss of taste or smell, nausea/vomiting, runny nose/congestion, and unexplained fatigue.
Have had close contact with someone with confirmed COVID-19 or COVID-19 symptoms
Have been tested for COVID-19
---
What To Do If You Are Sick:

If you are sick, please do not come to your appointment. Please call to reschedule. We will make every effort to see you as soon as possible.
If you do come to your appointment AND do not pass screening for possible COVID-19 symptoms, we will not see you for your appointment. You will be rescheduled as soon as possible.

We appreciate your understanding in this matter.
Our focus is on the safety and health of all who come to Kennedy Krieger.
---
How To Protect Yourself: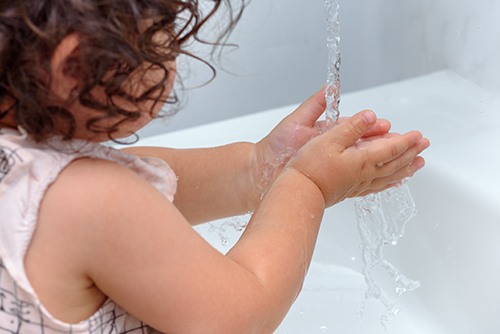 Continue to practice everyday preventive actions now:
Stay home when you are sick.
Avoid close contact with people who are sick.
Clean frequently touched surfaces and objects daily.
Wear a mask in public when community transmission is high, if you are unvaccinated and/or at high risk of severe illness.
Wash your hands often!
Get fully vaccinated against COVID-19 and its variants.
Get your seasonal flu vaccine.
---
Events & Classes
Kennedy Krieger Institute scheduled events happening at Kennedy Krieger, or in other locations, may be impacted by changes to the public health environment. Please check the specific event notice in this section of the Web site to confirm the status of the meeting or event in which you are interested or registered to attend. Meetings should be conducted virtually whenever possible, especially during times of increased transmission.
Members of the public may attend classes or events, but must register in advance. Attestation to vaccination and symptom screening should be included in registration.
Outdoor events are preferred.
If you are planning an onsite or virtual conference, please contact ConferenceReservations@KennedyKrieger.org as soon as possible to start the process of requesting a new event.
---
Additional Resources:
More information can be found via the links below: