Health, safety and privacy are paramount for Kennedy Krieger Institute.
We are continuously monitoring and responding to the rapidly changing COVID-19 situation.
We are following CDC guidelines and recommendations from national, state and local health departments, Johns Hopkins Medicine and the Maryland Hospital Association guidelines along with our state's restrictions, to minimize risk for our patients, students, staff members and the public.
---
Universal Masking:
Our goal is to protect patients and staff at all times.
Kennedy Krieger Institute requires all employees, visitors and patients to wear a surgical, procedural or cloth face mask while working on site in any of the Kennedy Krieger buildings.
Face shields are also indicated for patient care.
All visitors and patients will be provided a cloth or procedural mask when they arrive at any of the Kennedy Krieger buildings. • Please see Security or your front desk for a mask if you need one.
---
Telehealth/virtual visits
If you already have an appointment, there's no need to cancel.
Please call the clinic where you have the appointment (the number is on your appointment confirmation letter) to confirm if you should come in person, or if your appointment is through our telehealth system.
For new appointments, we will advise how the appointment will be delivered and provide easy instructions for all telephone or video appointments.
Our inpatient hospital continues to serve patients and is working hard to ensure the continued safety of our patients, families and staff members. Click here for more information about inpatient hospital admissions.
---
Health Alert:
Please notify Kennedy Krieger prior to your appointment if you:
Have traveled outside the U.S. in the past 21 days
Have been tested for COVID-19 fever, cough, shortness of breath, sore throat, chills, muscle aches, head ache, diarrhea, loss of taste or smell

vomiting, diarrhea, runny nose, congestion, or fatigue.

Had recent contact with someone with these symptoms
Have had contact with someone confirmed COVID-19
---
Social Distancing
We are following CDC recommendations for social distancing. All patients, visitors and staff members are asked to keep a distance of 6 feet apart..
All of us at Kennedy Krieger are working hard to keep you, your family and our staff members safe from COVID-19 and other respiratory viruses.
---
What To Do If You Are Sick:

If you are sick, please do not come to your appointment. Please call to reschedule. We will make every effort to see you as soon as possible.

If you do come to your appointment AND you are sick with a fever, cough or other possible COVID-19 symptoms, have traveled to specific regions with high rates of COVID-19, we will not see you for your appointment. You will be rescheduled as soon as possible.

We appreciate your understanding in this matter.
Our focus is on the safety and health of all who come to Kennedy Krieger.
---
How To Protect Yourself: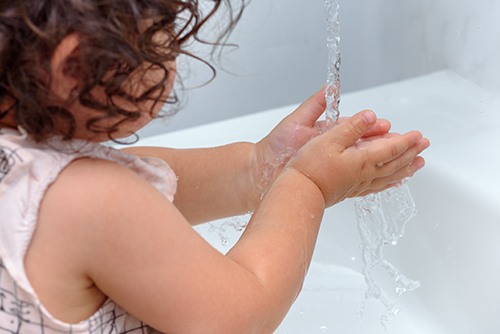 Continue to practice everyday preventive actions now:
Avoid close contact with people who are sick.

Stay home when you are sick

Cover your coughs and sneezes with a tissue.

Clean frequently touched surfaces and objects daily.

Wear a mask in public and when unable to socially distance

Wash your hands often!
---
Additional Resources:
More information can be found via the links below: