World of Care (WOC) is a specialized childcare center designed to meet the needs of children with and without medical conditions and/or developmental disabilities. Our multidisciplinary team of early care and education teachers, nurses, early intervention therapist, and family support staff use a family-centered, play-based approach to early care and education. In addition to the skilled and nurturing team, the center has an array of adapted materials and equipment to ensure each child explores and learns alongside classroom friends.
While we accept typically developing children, priority for admission is given to children who are medically fragile or developmentally delayed or disabled.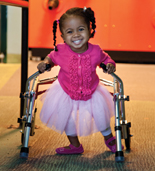 World of Care is accredited by the Maryland State Department of Education and licensed by the Maryland Office of Child Care Administration.
Services We Offer and Admission Criteria
We offer a nurturing, safe environment for up to 57 children with a wide range of abilities. The state-of-the-art indoor and outdoor play areas are designed and equipped to meet the individual needs of the children. Our services include the following:
Quality child care
Daily nursing assessments and interventions
Physical, occupational, and speech/language therapies
Family counseling, support, and referrals and coordination with community services and resources
Help facilitating the transition to schools and other settings
Collaboration with the child's pediatrician and other healthcare providers and therapists
State-of-the-art Multi-Sensory Room
Parent/caregiver support groups
To be admitted to World of Care, families must have
Children from six weeks to five years of age
Documentation of their child's special needs or medical condition (if applicable)
Early Starts
Early Starts - In partnership with the Kennedy Krieger Institute's Center for Autism and Related Disorders, and Baltimore City Infants and Toddlers Program, PACT developed "Early Starts", a pilot program for young children, 18 to 36 months, who have been diagnosed with an autism spectrum disorder. These children receive an intensive morning classroom experience in the child care center led by a Speech/Language Pathologist and an Occupational Therapist. For the remainder of the day, they join the other children in the World of Care child care center where they benefit from socialization and other inclusion opportunities. For more information, please contact Mira Labovitz at 410-298-7000 ext. 41874.
Our Team
We maintain, on average, a one-to-three staff-to-child ratio. Our staff includes
Specially trained child care staff
Nurses
Physical and occupational therapists
Speech/language pathologists
Social workers
Early intervention service coordination
Fees
Medical assistance, child care vouchers, and parent payment based on a sliding fee scale are all accepted.
Upcoming Events
Related Materials and Information: