The Bennett Blazers adaptive sports programs are open to individuals aged 2-18 with physical challenges who exhibit cognitive skills at or near appropriate developmental levels. Prior experience is not required to participate in any activity.
This program is designed for athletes who are physically challenged and can ambulate with or without assistive devices. Soccer, football, lacrosse, basketball, baseball, tennis, golf are part of this program on a seasonal basis. All levels of play and ability are accommodated.
Participant Age: 5–18 years
Season: September through June
Boccia is a game of strategy and accuracy. Players throw colored balls as close as possible to a white target ball. Boccia is not offered as a separate program but something we play during summer camp and other activity sessions just to offer something different.
A recreational basketball program for the ambulatory athlete who does not use assistive devices. Catching, passing, dribbling and shooting skills are all worked on, as well as an understanding of offensive and defensive strategies.
A favorite spring activity for many. Our baseball program is designed for the athlete who can ambulate without assistive devices (walker/canes). Assistive device users are encouraged to try wheelchair softball. Activities and drills are designed to help athletes improve their throwing, catching and batting skills. In house games are played to put skills into action, to have fun and to learn game strategies.
This program is designed for our youngest participants ages 2-8. Activities are designed to help develop and improve the child's fine and gross motor coordination. Children learn basic catching, throwing, striking and movement patterns as they manipulate themselves through a variety of climbing apparatuses and experiment with different balls and athletic equipment. This is a GYM/SWIM program. Following their obstacle course fun, children head into our heated therapy pool for basic swim instruction.
Participant Age: 2–8 years
Season: Year round
Power soccer is a game designed for individuals who use a power chair for mobility. Athletes use their speed and agility as well as a specially designed "guard" attached to their chair to advance a large soccer ball down the court with the goal of trying to pass to a teammate or score.
Blazers have been fortunate enough to participate in the sport of sailing through the CRAB (Chesapeake Region Accessible Boating) program during the summer months. It is an activity we try to incorporate as part of our summer fun experiences. Participants work with experienced sailors to learn the basics of sailing. Specially designed seats on the boats can be utilized to accommodate those with physical limitations.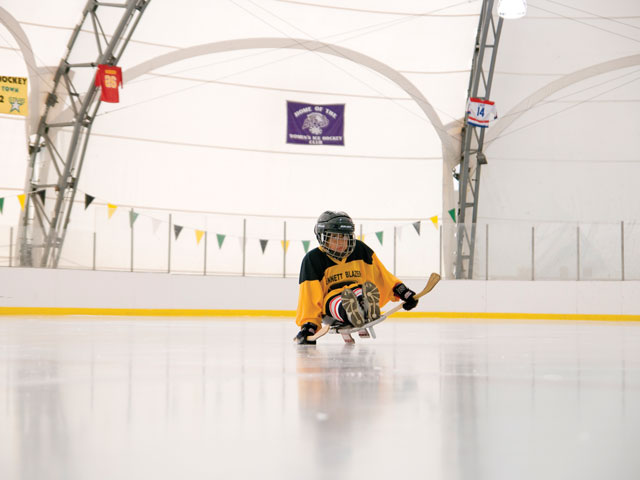 Sled hockey is open to any individual with a physical disability, ambulatory or wheelchair users are all appropriate. Athletes use specially designed sleds that sit on top of two blades. Two sticks are used with metal picks on one end for propulsion and a blade on the other hand for stick handling and shooting. Sled hockey follows typical hockey rules and full hokey equipment is worn. We have both a junior and adult team that compete in local , regional and national tournaments.
Participant Ages
Junior: 5-18 years
Adult: 18 years and older
Season: September through April
Our swim program offers instruction to all levels of swimmers, from the beginner who is afraid to get their face wet to the more advanced swimmer who wants to train to compete in local, regional and national competitions. Instructional swim classes are offered in our therapy pool and more advanced classes in our 25-yard lap pool.
Participant Ages
Junior: 2–18 years
Adult: 18 years and older
Season: September through June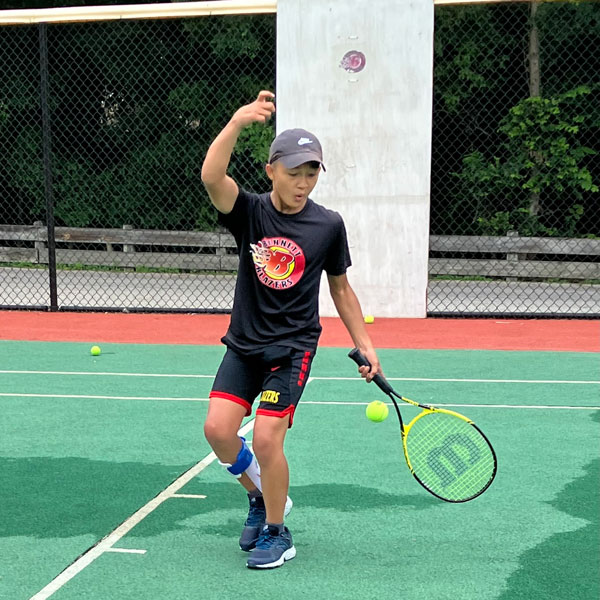 Our adapted tennis program teaches a progression of skills to both the stand up and wheelchair athlete. Basic stroke mechanics of the forehand, backhand and serve are developed so athletes can participate in tennis matches for fun against peers or family members. Tennis tournaments are hosted, in addition to travel to local wheelchair tennis competitions for the athlete's that want to take their game to the next level.
Participant Age: 5-18 years
Season: Year round
This is a program for both the ambulatory and wheelchair athlete. For competitions, the athletes are assigned a classification, which is based on their muscle function so that they are competing on the most equitable level possible. Classifications are assigned for both track and field events. Our track and field program provides the athletes the opportunity to train and compete at the local, regional and national level. Wheelchair athletes are given the opportunity to use specially designed racing wheelchairs. They are taught the proper techniques needed to operate the chairs successfully on the track. Our ambulatory athletes are taught proper running form to successfully compete in both sprints and long distance races. Training in field events such as shot, discus, javelin and long jump are also provided.
Participant Age
Junior: 5-18 years
Adult: 18 years and older
Season: March through June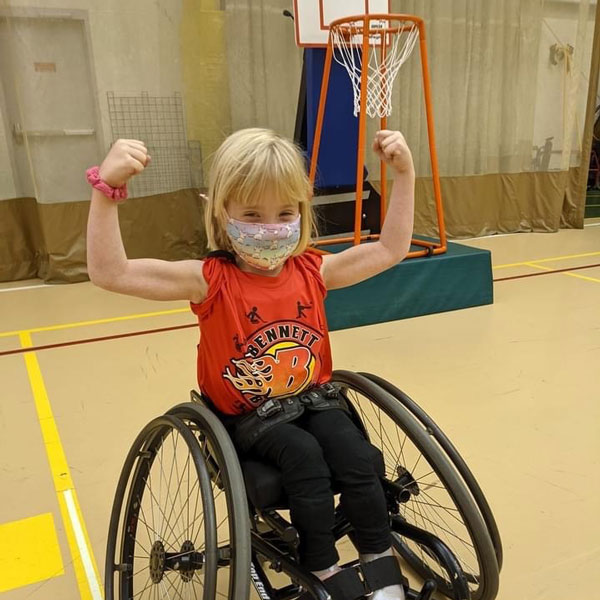 Any athlete with a lower limb disability can play wheelchair basketball. Athletes do NOT have to be regular wheelchair users. Many players are able to walk and even run but cannot be competitive in a stand up fashion. We offer three levels of play: novice (10 and under), prep (10-13) and Varsity (13-18) at varying height baskets to accommodate all levels of abilities. We host games at our facility as well as travel with our prep and varsity teams to regional and national competitions. Several Bennett Blazer athletes have gone on to play at the collegiate level as well as at the Paralympics.
Participant Age
Ages 10 and under, 5' to 7' baskets
Ages 13 and under, 8' 6" baskets
Ages 18 and under, 10' baskets
Adult: 18 and older
Season: September through March
This is an instructional hockey program that enables students to build skills in puck handling, passing, and shooting, along with games skills and strategies. Athletes who use an electric or manual wheelchair are welcome to participate. Athletes who are ambulatory who would like to play can use one of our sports chairs. Floor hockey is not a regular program for us, but something we play during summer sports camp and during other wheelchair sports sessions just to change it up.
Wheelchair football is a game we play typically during our summer sports camp or as a warmup activity during another wheelchair sports activity. Throwing, catching and agility skills are developed through our game play situations.
Wheelchair lacrosse is a challenging, fast paced team sport played in a manual wheelchair. We have sports chairs available for ambulatory athletes who would like to play. For our junior program, we utilize swax lax balls and play on a basketball court. Checking is only allowed below the chair seat to help keep players safe. Players learn how to use their lacrosse sticks to scoop, catch, carry, pass and shoot the ball. Wheelchair mobility with the stick is also a big part of the game and our practices.
Wheelchair softball takes place in the spring in our gym or on our outdoor field which is easily maneuverable by wheelchair users. A 14" DeBeers gymball is used, eliminating the need for gloves. Activities are designed to learn the basic skills of throwing, catching and batting in order to be successful playing the game.
Participant Age: 5-18
Season: Spring/Summer
Please email Gwena Herman at
HermanGw@KennedyKrieger.org
for more information on any of these sports, as well as to set up an evaluation for your child to help determine the most appropriate sports programs.