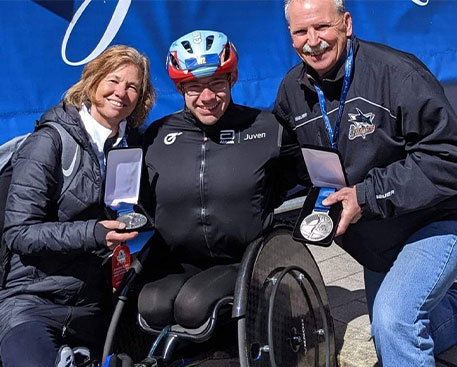 Gerry and Gwena Herman have been successfully managing all aspects of the Bennett Blazers Physically Challenged Sports Program since its inception in 1990. This includes a personalized approach for each athlete, often beginning as early as 2 years old.
The Hermans continually introduce exciting new exercises for the athletes, broadening the scope of their work. Gerry has a degree in Adapted Physical Education and Gwena's degree is in Motor Development Therapy. Together they have over 75 years of experience in running adapted recreational and competitive activities for children with physical disabilities.
They have both represented TEAM USA coaching junior USA teams at International World events. They have received numerous coaching awards including an induction into Wheelchair Sports, USA Hall of Fame, which is now under the umbrella of Move United. Many of their athletes have gone on to compete at the collegiate and international level, including the Paralympics.