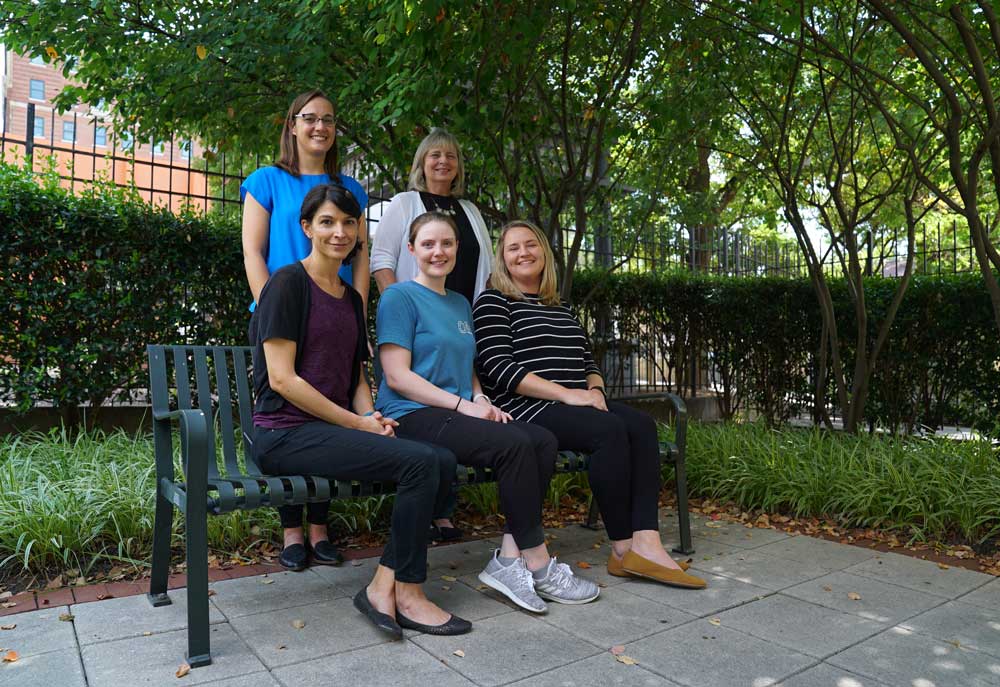 Clockwise, from top left: Laura Dickerson, Susan Schiaffino, Alexis Tutor, Emma Martin and Lauren Tooley
By Laura Thornton
"It's all about independence."
That's how Lauren Tooley, a speech-language pathologist, describes the mission of Kennedy Krieger Institute's Assistive Technology Clinic, which she manages. "We work to ensure patients have what they need to go about their day, at home, school, work and in the community, as independently as possible. It's not about changing what patients do, but about accommodating them in what they want to do and making sure they have the right tools for it."
The clinic, which has been serving patients and families for more than 30 years, is staffed with three speech-language pathologists and two occupational therapists. They work with patients to identify needs in communication, reading, spelling, mobility, and phone, computer and environmental access—turning lights on and off in a room, for example. They also match, customize, and fit or program new equipment, devices and technologies for patients.
It's not about changing what patients do, but about accommodating them in what they want to do." – Lauren Tooley
Initial evaluations typically last two hours, and are offered throughout the week. Follow-up evaluations and appointments help clinic staff members narrow down the best technology for each patient—be it a complex power wheelchair, a communication device that uses pictures for words, eye-gaze equipment that allows one to type out an email by looking at a special keyboard, or something else, or a combination of things. Patients and their families have the opportunity to test out different pieces of equipment to make sure they choose the right products.
Giving Patients a Voice
One of the clinic's most requested services is assistance with augmentative and alternative communication (AAC), Tooley says. An individual who is nonspeaking can select pictures or words on an AAC device, or spell a word—perhaps with a finger or an eye-gaze tracker—and the device will say that word out loud. AAC devices are essential to giving individuals who are nonspeaking a voice in the community.
When it comes to training patients and families to use new devices, several appointments may be needed, especially for communication devices. "We train a patient's family members, too, so they can model using the device for everyday communication," Tooley says. "We also train them on adding new words to the device—siblings are particularly good at that, especially when parents are intimidated by the new technology."
Modeling using new communication equipment, Tooley explains, is particularly important for children, as they learn language by being around others using that language and method. "We're giving patients a way to communicate that isn't often used in the community or with those around them," she says. "But if family members and caregivers model communication on an AAC device, that mode of communication will soon become functional and relevant for the patient—and their family."
As a speech-language pathologist, Tooley is well-situated to help patients find a communication style and method that work for them. "For young patients in need of AAC, we want to be sure they're learning language and communication skills while using their new AAC device," she says. Individuals who've experienced a loss of oral speech or language due to a brain injury or aphasia, for example, may have a different set of needs—and a different set of possible technological solutions, she explains.
At the start of a new school year, Tooley suggests that parents and guardians of students who use AAC or any other assistive devices talk with their child's new teachers and educational support team about their devices. "Let them know how the device is used at home, and if your child needs assistance in using it. And make a plan—perhaps with a checklist—for ensuring the equipment gets to school with your child every morning, and then comes home again with your child at the end of the day."
While most of the clinic's patients are children and teens, the clinic sees people of all ages. Some have been coming to the clinic for many years, receiving new evaluations as their needs change and as technology offers new options for accessibility. "We're here to help individuals of any age find the right technologies to help them be as independent as possible, and to live their lives to the fullest."