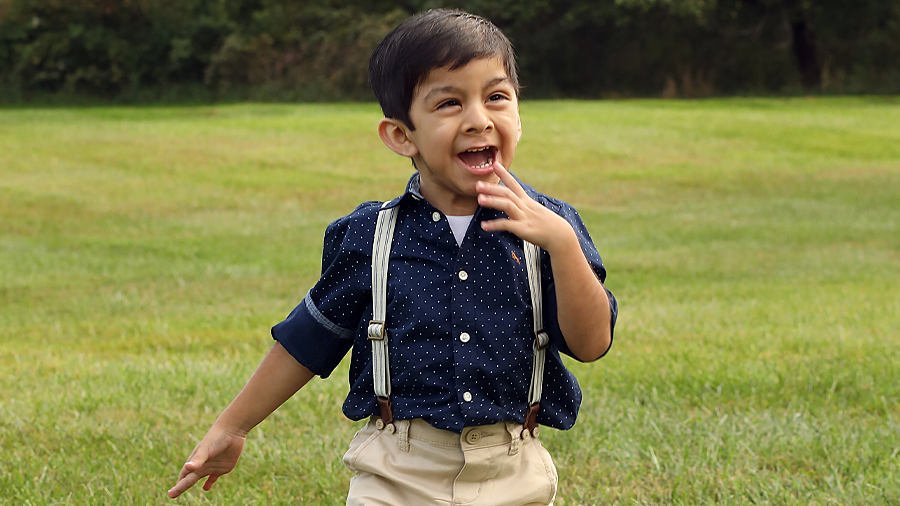 By Laura Thornton 
When Joaquin, 4, is excited about something, he jumps up and down, laughing. "If he wants you to get him something out of his reach, he'll pull at you until you understand what he wants," his mom, Nancy, says. "When he tries to walk or run, he'll start to skip and jump at the same time."
What's so extraordinary about Joaquin is that he's only been walking for about a year. Joaquin has Coffin-Siris syndrome, a genetic condition that often causes developmental delays. He was also born with a cleft palate, which was repaired through surgery, and was tube-fed for much of the first few years of his life.
Joaquin was referred to Kennedy Krieger Institute when he was about a year and a half old. His initial therapy sessions were challenging—Kennedy Krieger was a new setting for him, and he really just wanted to stay in his mom's lap and arms. After a few months, Nancy and his care team decided to pause his therapies until he was better able to participate.
In April 2020, when Joaquin was almost 3, Nancy reached back out to try again, as he still wasn't standing or walking independently. This time, because of the COVID-19 pandemic, his therapies were offered via telehealth, meaning that Nancy and Joaquin met with Joaquin's therapists virtually, on the computer. Nancy wasn't sure how her son would do with virtual appointments, but to her and Joaquin's therapists' surprise, the virtual visits were incredibly successful!
An Opportunity for Success
During the six months that Joaquin worked virtually with physical therapist Tarra Dendinger, "He absolutely thrived with telehealth services," she says. "He truly made leaps and bounds with his motor development." He went from not being able to stand without support, to standing independently, to walking a few steps, to jumping and running outside to get to the playground next door. "It isn't the progress we usually expect within a six-month window. I was amazed, and Mom was ecstatic."
In fact, Joaquin made so much progress in such a short amount of time that he made breakthroughs every week. "I'd see him for one session, and he'd take one or two wobbly steps on his own, then the next week, he'd be taking 10 steps, and the week after that, he'd be walking down the hallway to look for his sibling," she says.
Before the pandemic, Dendinger never thought telehealth was something she'd be using regularly with patients, let alone to any great benefit. "But at my first virtual appointment with Joaquin, I saw a different child than I'd seen on-site the year before. He was happy and playful because he was in his house with his family instead of an unfamiliar clinic setting. I knew that with telehealth, we had an opportunity for him to be successful."
"When he was younger, it was so overwhelming for me that he wasn't doing the things he was supposed to be doing at that age," Nancy says. "So when he did start walking, I was just so happy to see him do that."
A Ham Sandwich
Because Joaquin was born with a cleft palate and was tube-fed for a few years, he needed help from his friends in Kennedy Krieger's outpatient Pediatric Feeding Disorders Program before he could enjoy a good, hearty meal of solid foods.
Joaquin began working with behavioral therapist Julia Woods and registered dietitian Kathryn Davis in 2019 to help wean him from tube feedings and get him accustomed to chewing and swallowing foods of different textures. Rounding out his feeding team was a speech-language pathologist.
"Kids who have had feeding tubes since birth don't go through the typical stages of baby food to soft foods to chunky food," Woods explains. "We would use positive reinforcement to encourage chewing—he'd take a bite, we'd praise him, and he'd play with a toy he likes." Then, they'd try another bite.
As Joaquin's tolerance for—and ability to chew—food grew, Davis made recommendations to gradually decrease his tube feedings, in both volume and number. She also made sure he was getting the right amount of calories for a growing toddler.
"How far he came was really exciting," Davis says. "His success is due so much to his family implementing the recommendations we made." At one appointment, Joaquin showed up chewing happily away on a ham sandwich—much to Davis' surprise! He also loves the childhood staple macaroni and cheese, Nancy says.
Something Great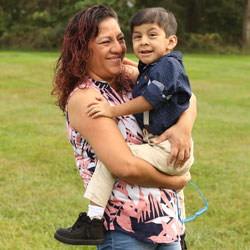 Joaquin still has his feeding tube, but he hasn't needed it since last spring. Once he's gone a full year without using the tube, it will be removed.
He's also worked with occupational therapist Sapna Bansil to help him develop his motor skills and build up his strength. But virtual appointments with Bansil were tough—all he wanted to do was walk! "He didn't want to do my therapies, because he was just so interested in moving and exploring in a way that he hadn't been able to do before." But Bansil still managed to work with him enough that he was able to develop the skills he needed to just be a kid—to play with toys and toss a ball, for example.
After six months of telehealth physical therapy services, Joaquin had made so much progress that he was discharged from the program. "That's the ultimate goal, for him not to need my services anymore," Dendinger says.
Nancy used to worry about how Joaquin would do in school, and that he would need a lot of assistance, especially if he wasn't able to move around independently. "But when he started walking, I was relieved that he would be able to walk by himself at school," she says. Now in pre-kindergarten, Joaquin is enjoying school, and particularly loves music, dancing and sports. "He loves all types of balls—soccer balls, basketballs— those are some of his favorite things."
Dendinger attributes Joaquin's incredible progress, in large part, to Nancy. "During his telehealth visits, she acted as my hands, always giving 100% to our sessions, and she always worked with him on the activities that were part of his home exercise program between appointments," she says. "Joaquin was always happy to participate because he was in his home environment, and was able to explore and interact with his mother and siblings. He was always smiling and engaged during our visits."
"Working with Kennedy Krieger was a really good experience for us." – Nancy, Joaquin's mom
"Working with Kennedy Krieger was a really good experience for us," Nancy says, "because while it was a lot of work, and it took time, in the end, something great came out of it."