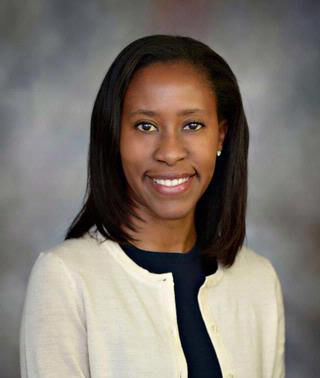 BALTIMORE, August 27, 2020 –  Kennedy Krieger Institute, a non-profit organization internationally known for providing a wide range of health and education services for children, adolescents and adults with diseases, disorders or injuries that impact the nervous system, is pleased to announce Erika Fullwood Augustine, M.D., M.S., as its inaugural associate chief science officer and director of the Clinical Trials Unit. With extensive experience and impressive accolades, Augustine will work with the Institute's chief science officer to serve as one of the senior-most leaders in developing research strategy and overseeing research operations.
"Under Erika's leadership, we will expand our collaboration with other academic institutions and industries, broaden our clinical trials impact, and support and enable clinical investigations to improve patient interventions and recovery," said Dr. Brad Schlaggar, president and CEO of Kennedy Krieger Institute. "Erika is an exceptional clinician-scientist— with her on our team, we'll have the opportunity to chart new, ambitious paths for our research, especially our clinical trials efforts."
In her new role, Augustine will not only work closely with our chief science officer to help develop our research strategy and oversee research operations, she will also direct the Institute's Clinical Trials Unit, which offers federal and industry-sponsored clinical trials designed to develop treatments for genetic, developmental, behavioral and psychiatric disorders. She will also be the primary liaison with The Johns Hopkins University School of Medicine's Institute for Clinical and Translational Research (ICTR) and work closely with Kennedy Krieger's Office of Human Research Administration to provide clinical research oversight and regulatory compliance.
"I've long admired the work at Kennedy Krieger and the unique focus on children's neurological and developmental disorders," said Augustine. "Once I met the team of leaders, and learned more about their vision for the future of the Institute, I knew I wanted to become part of Kennedy Krieger and advance the mission. I'm excited by what we can accomplish together."
An award-winning physician, mentor, scientist and leader, Augustine brings considerable expertise and experience to Kennedy Krieger. After graduating from Harvard University, Augustine received her Doctor of Medicine from the University of Rochester. She then trained and served as chief resident in pediatric neurology at Boston Children's Hospital. Subsequently, Augustine returned to the University of Rochester Medical Center for parallel fellowships in movement disorders and experimental therapeutics. During her time as a fellow, she taught in the Departments of Neurology and Pediatrics at the University of Rochester Medical Center and later became the Robert J. Joynt associate professor of Neurology, where she also served as associate director of the Center for Health + Technology, co-director of the Hereditary Ataxia Clinic, and co-director of the University of Rochester Batten Center.
Augustine is expected to begin her new role at Kennedy Krieger in November 2020.
About Kennedy Krieger Institute:  
Kennedy Krieger Institute, an internationally known, non-profit organization located in the greater Baltimore/Washington, D.C. region, transforms the lives of more than 25,000 individuals a year through inpatient and outpatient medical, behavioral health and wellness therapies, home and community services, school-based programs, training and education for professionals and advocacy. Kennedy Krieger provides a wide range of services for children, adolescents and adults with diseases, disorders or injuries that impact the nervous system, ranging from mild to severe. The Institute is home to a team of investigators who contribute to the understanding of how disorders develop, while at the same time pioneer new interventions and methods of early diagnosis, prevention and treatment. Visit KennedyKrieger.org for more information about Kennedy Krieger.