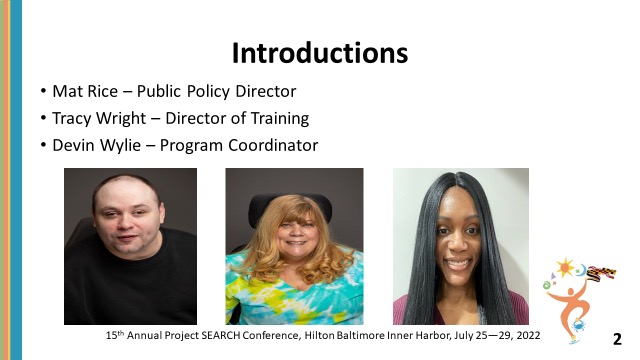 People On the Go Maryland (POG) gave a presentation, "The Importance of Advocacy," at Project SEARCH's 15th annual national conference, which took place in Baltimore from July 25 through 29. POG's presentation was well received. The presenters raised awareness and answered questions about the best way to self-disclose a disability, types of work an individual or group can do to get subminimum wages abolished in other states, and the importance of internships for youth transitioning to adulthood.
Cody Drinkwater, POG's public policy assistant, recently graduated from the Partners in Policymaking® Class of 2022 cohort. Congratulations, Cody!
POG is bringing a fresh new look to its presentations and exhibits at conferences and events, and is committed to providing accommodations for those who are visually impaired. To support these efforts, POG recently purchased a new tablecloth, table runner and Braille business cards.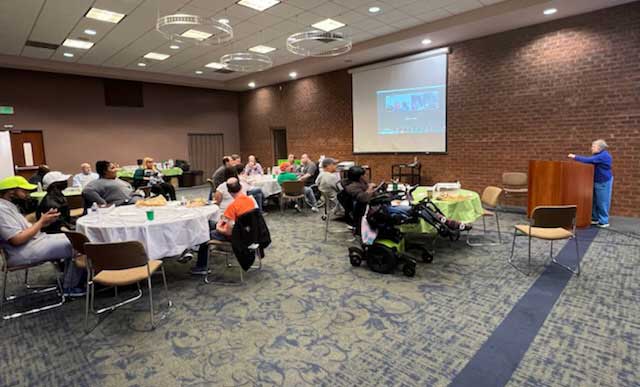 POG hosted its quarterly meeting on Saturday, September 24th. This was the first hybrid meeting since the start of the COVID-19 pandemic and many people were excited to be back in person after more than two years of virtual meetings. The event was held at The Meeting House in Columbia and 28 people attended, including 22 self-advocates. Cody Drinkwater, POG public policy assistant, presented the 2023 legislative platform. Tracy Wright, POG director of training, gave a presentation on voter information and registration. Bette Anne Mobley, executive director of Maryland ABLE, discussed the new provisions of the Maryland ABLE program. All presentations were well received.