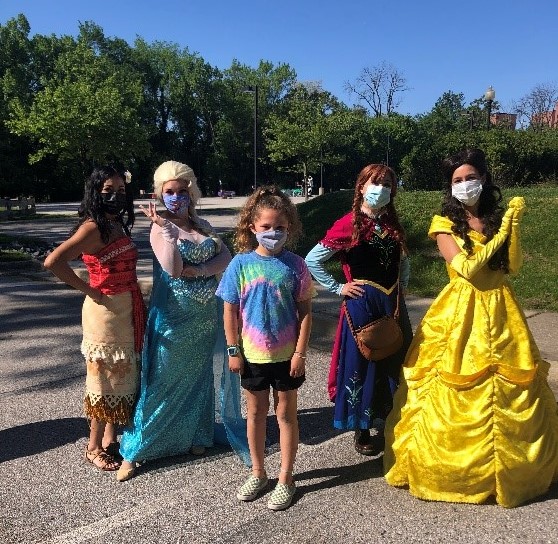 ROAR for Kids is a Kennedy Krieger Institute-wide fundraising event that usually consists of a full morning of fun activities followed by a 5K at Oregon Ridge Park. In response to the pandemic, Kennedy Krieger turned the annual event this year into a weeklong celebration with both virtual and in-person elements, kicking off with a socially-distanced drive-through CARnival at Kennedy Krieger High School on May 15.
Visitors were able to stay in their cars and gather resources from tables staffed by various Kennedy Krieger departments. Eve Lukowski, administrative coordinator for the Maryland Center for Developmental Disabilities (MCDD), staffed the CARnival's MCDD table and provided information to participants on the MCDD's various community programs. Visitors also collected race goodies like muffins, swag and gift cards to Chick-fil-A. A photo-op with a Disney princess awaited every car at the end of the CARnival route.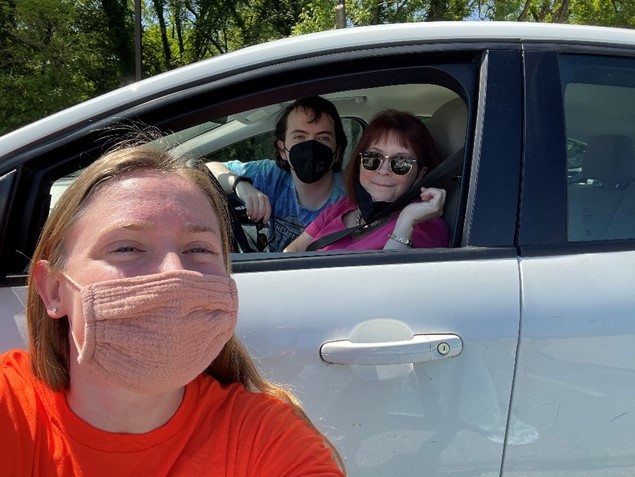 This year, funds raised by the MCDD at ROAR for Kids will support families seeking civil legal services from the MCDD's Project HEAL (Health, Education, Advocacy, and Law). With the support of generous donors, Team MCDD raised $3,173! The MCDD's staff members would like to thank everyone who supported Project HEAL through ROAR for Kids.
The MCDD's fall 2020 Project SEARCH at Kennedy Krieger Institute intern, Griffin Clabaugh-Bareford, and his mother, Kelly Clabaugh (Bareford), visited the MCDD table and took a picture of themselves with Lukowski.