Kennedy Krieger Institute hosted its third Women's Leadership Initiative event on January 16, 2020, bringing together about 130 faculty members, staff members and trainees from a variety of departments and programs. The two-hour event opened with hors d'oeuvres and networking. Suzanne Rybczynski, MD, the Institute's associate chief medical officer, provided welcome remarks, introduced the keynote speaker, her former professor, Stacey B. Lee, JD, and shared senior leadership's support for the Women's Leadership Initiative.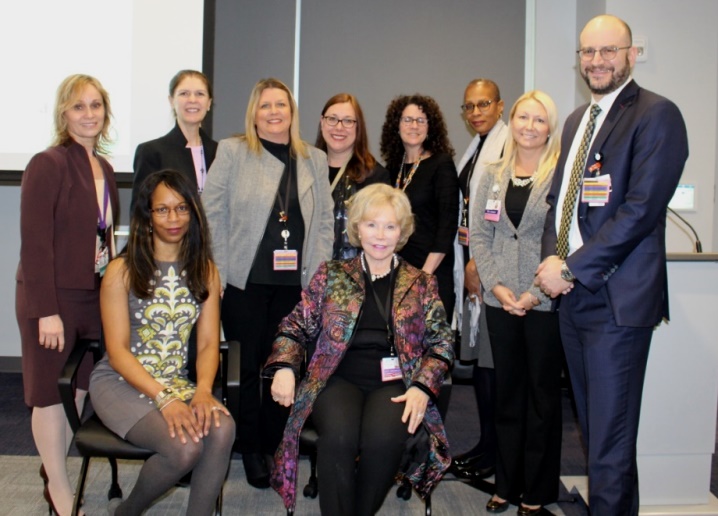 Prof. Lee gave a dynamic keynote address highlighting strategies everyone can use to find their own best work-life balance. Lee is an associate professor of law at the Johns Hopkins Carey Business School and holds a joint appointment at the Johns Hopkins Bloomberg School of Public Health. She has expertise in facilitating negotiations—and in training business and healthcare professionals and executives in negotiation techniques—to resolve conflict and reach agreement.
Kennedy Krieger Institute Board of Directors Chair Nancy Grasmick, EdD, facilitated a panel discussion that included Kennedy Krieger faculty and staff members Jackie Stone, PhD, MPA, PT; Rebecca Landa, PhD, CCC-SLP; Linda Myers, EdD; and Tracee Hutt-Brown, MSW, LCSW-C. Following the panel discussion, Cristina Sadowsky, MD, gave closing remarks.
The event was free and open to all Kennedy Krieger faculty members, staff members and trainees. Additionally, faculty members, staff members and trainees could watch the event on desktops across all Kennedy Krieger campuses