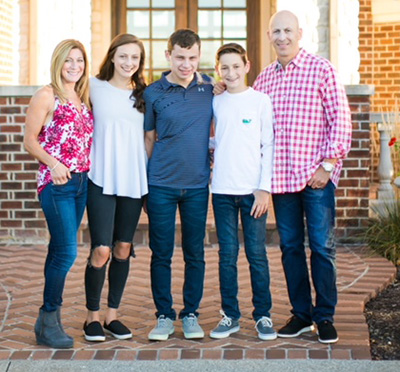 When Austin Claymon was born in 2000, he wasn't gaining weight as he should. As new parents, Matthew and Melanie Claymon watched anxiously as their son underwent numerous medical tests, tube feedings and visits to different doctors.
When Austin was 18 months old, doctors determined he would need treatment in a program focused on feeding disorders. The Claymons extensively researched feeding programs across the country and were consistently told that Kennedy Krieger Institute was the best place for children with feeding disorders.
Over the next five years, Melanie and Austin traveled to Kennedy Krieger from their home in the Indianapolis suburb of Carmel three times, each time staying for eight weeks. Austin participated in the Institute's intensive outpatient feeding program, working with his therapists every day. The feeding team helped the Claymons learn about nutrition, approaches to feeding and the importance of structure during mealtimes. The Claymons called it "feeding camp," and Austin made progress with every trip he made to Kennedy Krieger. 
While the mission of their trips was to normalize Austin's eating habits, the Claymons made the best of their time in Baltimore, receiving frequent visits from family and friends in the Baltimore area, and exploring the city on the weekends.
The Claymons also met families from around the country who were experiencing similar situations with their children, and they've maintained many of these relationships over the years. They've also helped other families —whose children have similar challenges— know what to expect when their children enter the feeding program.
When Austin turned 3, the Claymons, grateful for the feeding program team's help, asked friends and family to support a fund they had established in his name at Kennedy Krieger. The Austin Claymon Fund helps children in the feeding program by supplying items such as wagons, toys and playroom furnishings. The family has been supporting the fund ever since starting it in 2003.
Today, Austin is 17 and an avid snow- and water-skier. He likes hot dogs, macaroni and cheese and Carnation Instant Breakfast (CIB). He works part-time at a cafe and loves the freedom of driving his car and having fun with his friends and three dogs. The Claymons hope to return to Kennedy Krieger one day, as visitors, to see how their support has helped the feeding program.
Contributions to the Austin Claymon Fund may be made by visiting our donation page and typing Claymon Fund in the Fund Designation Input.