For the past 10 years, Al DeCesaris has dedicated tremendous time and effort to fighting Sturge-Weber syndrome, a rare and devastating neurological disorder that afflicts his young niece Jenna. Through charitable events, athletic endeavors, and his "For A Cure" books, he has created considerable awareness about the disorder and helped raise significant funds to further efforts to find a cure.
Not long after Jenna's birth, Al recognized the need to raise funds for research for Sturge-Weber syndrome as federal funding for rare pediatric diseases is extremely low. He and his family organized a concert and auction fundraiser called Bands on the Bay and the event has raised more than $1,000,000 for the Hunter Nelson Sturge-Weber Center at Kennedy Krieger Institute and helped fund research that led to the discovery of the cause of Sturge-Weber syndrome.
Even with the success of Bands on the Bay, Al couldn't help but think that there was more they could do to further the efforts to find a cure. More he could do.
In 2013, Al set out on a solo cross-country bicycle journey in honor of Jenna. Despite great adversity, he biked more than 3,000 miles from California to Maryland. Through his Crossing America For A Cure bike ride, he created awareness about Sturge-Weber syndrome across the country and raised critical funds for medical research.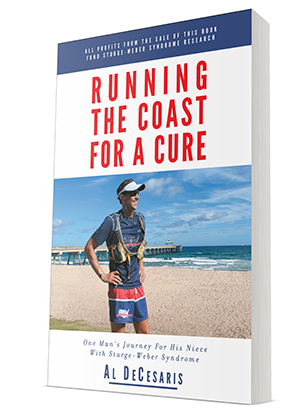 In 2014, Al tackled another challenging endeavor, this time on foot. Running close to a marathon a day for three consecutive months, he logged 1,935 miles as he made his way from Maine to Florida. Through his Running The Coast For A Cure charity run, he created awareness about Sturge-Weber Syndrome down the East Coast, raised additional funds for ongoing research, and inspired numerous individuals to join the fight against the disorder.
After both his ride and his run, Al wrote books about his experiences on the road: the things he saw, the emotions he felt, the challenges he faced and of the extraordinary people he met along the way. His books about these athletic endeavors, Crossing America For A Cure and Running The Coast For A Cure, are available for purchase on Amazon and all sale profits directly benefit Sturge-Weber research at Kennedy Krieger Institute.