Unbroken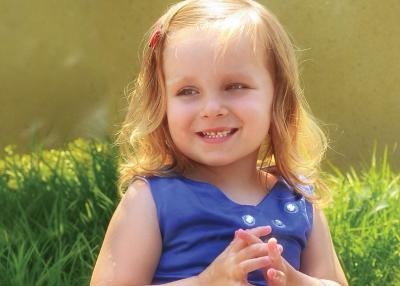 At 4 years old, Victoria "Pfeiffer" Whiteley is funny, precocious, very charming, and wise beyond her years. She loves dresses with flowers, Barbies, and all things girly. She is also partially paralyzed, a result of transverse myelitis.
When Pfeiffer was 8 months old, she developed a high fever and seemed to "flop over," according to her babysitter. Both the pediatrician and the doctor at the hospital said the same thing—it was just a virus that would resolve on its own.
But the next day, her mother, Mandy, noticed that although Pfeiffer was moving her elbows, her hands were still, and she wasn't grasping things with her fingers like she had before. Mandy, thinking her daughter must still be weak from the virus, continued to wait for the fever to break.
"It was five days before Christmas," Mandy recalls. "I didn't think in a million years she'd be paralyzed."
The next day, the fever was gone, but Pfeiffer still wasn't moving. She had just recently learned to rock back and forth on her hands and knees, getting ready to crawl, but now she lay still. Beginning to panic, Mandy pinched Pfeiffer's legs to get a response, but none came.
Later at the emergency room, after a battery of tests including MRIs, blood work, and a spinal tap, a neurologist told Mandy the news in the early hours of the morning—Pfeiffer was paralyzed, a result of transverse myelitis, a rare, neurological disorder caused by inflammation of the spinal cord. The inflammation can damage or destroy myelin, the fatty insulation that covers nerve cell fibers, and interrupt communication between the nerves in the spinal cord and the rest of the body.
Into the Unknown
"I had never heard of transverse myelitis," says Mandy. "At first I was thinking, 'All right, give her the medicine, give her the operation.' It didn't really connect until later that there is no cure."
The doctor started Pfeiffer on a course of steroids and immunoglobulins, which are foreign antibodies injected in an attempt to make her antibodies attack the virus instead of her spine. Pfeiffer was put on an IV and a breathing tube. At that point, she could lift her arms very weakly, but not her hands, and she couldn't move her legs at all. Her trunk was completely slumped over—she couldn't sit up or push up on her arms.
Once she finished the course of steroids, the doctors recommended inpatient therapy. Because there was no operation that could help, her recovery depended largely on how well she responded to therapy. And the best place to go, doctors told her parents, was the International Center for Spinal Cord Injury (ICSCI) at Kennedy Krieger.
"I didn't understand the severity of what we were dealing with until we got to Kennedy Krieger and walked into the therapy room and everyone was in wheelchairs," Mandy says. This was Pfeiffer's new community, and it was, she admits, shocking at first.
The hardest part for Mandy was not knowing what the future held. The prognosis for transverse myelitis is unpredictable—one third of those with transverse myelitis will recover, one third will stay the same, and the other third will improve marginally, but have weakness and gait problems.
"It's hard," says Mandy. "You just want them to tell you everything will be fine—you want it so badly. But they won't tell you your child is going to walk because they don't know. No two cases are the same with transverse myelitis."
Hope through Motion
But therapists did offer hope that recovery from paralysis was possible through Activity Based Restorative Therapies (ABRT), exercises that focus on prompting cells to "remember" how to move while encouraging the growth of new nervous system cells. The goal for Pfeiffer was to restore sensation, movement, and independence.
She spent ten days on the inpatient unit and then began outpatient therapy. "She was progressing pretty quickly in the beginning," says Mandy. "It was exciting because all of a sudden she got movement in her left hand back and then the right." She began pushing up, and soon she was able to sit up, and then pull to a standing position.
After Pfeiffer's initial inpatient stay, she began coming to Kennedy Krieger three times a year for intense, two-week bouts of therapy using equipment specially designed for children. Pfeiffer's physical therapist, Brooke Meyer, developed a comprehensive exercise program that her therapists at home in New York could follow until her next visit.
Pfeiffer did therapy for 15 hours a week with various therapy equipment—a suspension harness and treadmill to facilitate walking, a functional electrical stimulation bike, an EMPI unit that provides electrical stimulation to muscles, and special ankle foot orthosis braces that hold feet in alignment and strengthen ankles and toes. Her hard work began paying off—she progressed from walking with a walker to walking with forearm crutches, to a cane, then finally to walking without an assistive device for short distances.
Little Miracles
Meyer recalls the first time Pfeiffer walked without an assistive device. At first, she would fall down on purpose because she was so used to the security of holding onto something while walking. But during one therapy session, Meyer lined up Barbies at two different stations, telling Pfeiffer to walk over to one and have a dance party with the Barbies. Without realizing it, Pfeiffer was walking. "Pfeiffer, do you realize you just walked?" Meyer asked her. Pfeiffer was three years old.
Later, as she was getting ready to leave, Pfeiffer called out with a grin, "Brooke! Thank you for helping me walk today." These are the moments that melt Meyer's heart and make her job so worthwhile.
"It has been so amazing and rewarding to see Pfeiffer go from an infant who could not move on her own to a child who is walking and running with crutches," says Meyer.
For Pfeiffer's family, all of her "firsts" are cause for celebration. "Part of the silver lining for us is we get to witness little miracles all the time—the first time she stood, the first time she crawled, the first time she walked without crutches," explains Mandy. "Every little milestone has been so inspirational and enlightening. I'd rather not have the challenge, but having had the challenge, the rewards are so much greater."
Because she is young, Pfeiffer's nervous system is still developing, so she has a good chance of recovery, according to Meyer. "Pfeiffer is a determined little girl who has made so much progress, and she'll continue to make progress. We've seen patients at the center gain meaningful recovery long after a spinal cord injury."
In the meantime, Mandy will continue Pfeiffer's treatment at Kennedy Krieger, and trust them to guide her through her daughter's care. "Kennedy Krieger and the International Center for Spinal Cord Injury are pioneers in transverse myelitis and spinal cord injuries," says Mandy. "They know what to expect as a spinal cord–injured child grows and progresses. Every time I go there I find out what's coming down the road. We're ahead of the game, rather than just waiting for something to happen and reacting."
It has been so amazing and rewarding to see Pfeiffer go from an infant who could not move on her own to a child who is walking and running with crutches…Pfeiffer is a determined little girl who has made so much progress, and she'll continue to make progress. We've seen patients at the center gain meaningful recovery long after a spinal cord injury.

Brooke Meyer, physical therapist at the Institute's International Center for Spinal Cord Injury