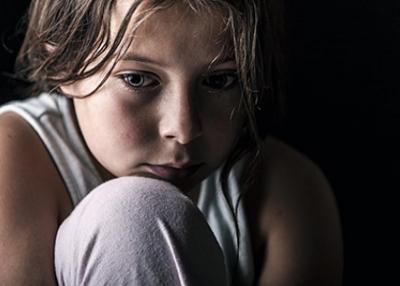 For about eight years, Kaitlyn Adams' constant pain, caused by sickle cell anemia, kept her from going out with friends, hanging out at the mall, and doing any of the things her peers were doing. Her life was severely limited—even attending school became a challenge—and as a result, her mood, attitude and energy level were almost always affected. And while she strongly disliked narcotic medications, morphine and opiates seemed to be her only options—until she came to Kennedy Krieger Institute.
Addiction to opioids and narcotics has been in the news quite a bit lately. Our minds usually associate narcotic use with adults, yet when chronic pain affects children or teens, narcotics are often prescribed. Opioid and narcotic tolerance and withdrawal can commonly develop in younger age groups, as well as in adults. Whether narcotics are effective at treating chronic pain is controversial, as these medications become less effective over time, with patients gradually developing a tolerance to the drugs. The side effects of withdrawal include dizziness, nausea and vomiting.
"It is becoming increasingly well-recognized that opioids are not the answer, and are typically ineffective for chronic pain," says Dr. Keith J. Slifer, director of the Pediatric Psychology Program at Kennedy Krieger.
Roughly one in three young people report symptoms of chronic pain. A 2016 article in "Children," a medical journal, put the number of pediatric chronic pain cases serious enough to warrant intensive treatment at 3 percent nationwide. Kennedy Krieger's Pain Rehabilitation Program is one of the few programs in the country that helps children and teens conquer chronic pain without narcotics.
Chronic pain can immobilize youngsters, making it difficult for them to attend school consistently. Many also find it difficult to be in social settings with their friends, and they can become isolated due to the challenges their chronic pain presents. Activity avoidance in response to chronic pain is quite common among children and teens with chronic pain. The Institute's Pediatric Chronic Pain Rehabilitation Program teaches children and teens that pain can be managed, making it no longer a debilitating force in their lives.
The program sees patients who have been experiencing chronic pain for six months or more. Sometimes, a child's pain is one that has lingered long after a broken bone has healed. In other cases, like Kaitlyn's, the pain is caused by, or associated with, an underlying medical condition. In many cases, the fundamental cause of a child's or teen's chronic pain cannot be determined. That's OK: Determining the cause is not essential to treatment. Developing a comprehensive treatment plan is what is important.
The average age of patient in the Pediatric Chronic Pain Rehabilitation Program is 13 years old. Treating chronic pain in children and teens requires extra care and consideration on the part of clinicians, because young people may not easily understand how drugs and other treatments work. Appropriate, non-narcotic analgesics can reduce stress responses and improve clinical outcomes in pediatric patients with chronic pain. Healing is often facilitated by reducing stress and anxiety, because, in many cases, stress is known to exacerbate pain. Kennedy Krieger's clinicians know that physical pain is but one aspect of a complex issue, and take into account the other factors—stress, anxiety, mood, school, social life, family life and more— surrounding the pain, treating the problem from all perspectives.
"The goal is to help patients learn to conquer their pain and not be controlled by it," says Dr. Suzanne Rybczynski, medical director of the Institute's inpatient services.
Two forms of non-narcotic treatment for chronic pain—intensive inpatient rehabilitation and ongoing outpatient cognitive behavioral and physical therapy services—have shown success in helping children and teens overcome chronic pain. Both forms of treatment are offered by the Institute's Pain Rehabilitation Program, which also offers emotional support services to parents of patients with chronic pain.
At Kennedy Krieger, life is reframed for patients with chronic pain, allowing them and their family members to begin to think about pain in new ways. Patients already taking narcotic medications are carefully weaned off of them, and all patients are introduced to healthy behaviors than can reduce anxiety and stress. Their brains are essentially rewired so pain signals don't ruin their lives.
Within one month of Kaitlyn being admitted to the Institute's Pain Rehabilitation Program, she was no longer taking narcotic pain medications. Instead, through physical and cognitive behavioral therapies, muscle strengthening, and even time with emotional support animals, she started to find relief from the chronic pain that had plagued her for so long. (Watch a video to learn more about Kaitlyn's journey.)
 
Kennedy Krieger's comprehensive approach to managing a child's chronic pain is "becoming the standard of care for youth with chronic or recurrent pain," reports Dr. Slifer. "There are few programs worldwide that provide the continuum of rehabilitation services offered at Kennedy Krieger," he says.
Treatment is informed by a model of pain that takes into consideration biological, psychological and sociological factors. Physical therapy for chronic pain is different from routine physical therapy. In physical therapy sessions for patients with chronic pain, patients are actually encouraged and supported to work against what their own brains are telling them do—i.e., they're encouraged to work on therapeutic activities while despite their pain by learning and practicing cognitive and behavioral coping strategies.. This is believed to re-educate nerves and imparts renewed self-confidence.. Pain management tools that support patients from a psychological standpoint include planned interactive distraction, breathing exercises, meditation, guided imagery, activity pacing  and journaling. Some phone applications can help make these tools more accessible to younger patients. Gradually, over the course of treatment, patients' reactions to pain change.
At Kennedy Krieger, clinicians with highly specialized training and experience with treating chronic pain form an interdisciplinary team that understands the special complexities of youngsters with debilitating pain. A patient's past visits to multiple doctors may have yielded few results, varying diagnoses, prescriptions for opioid medications (appropriate for acute pain during healing, but not for chronic pain).  Their quest for answers also may have resulted in a diagnosis that the pain problem is "all in the child's head," leaving parents confused and distrustful, not knowing what or whom to believe.
But when a patient with chronic pain first gets to Kennedy Krieger, a team of specialists completes a comprehensive intake exam to consider the severity of the child's pain, when the child's symptoms first occurred, and what the specific aspects of the child's pain are. The team also asks questions to get to know more about the child's life. This thorough approach helps re-establish the family's trust with the medical profession. They soon come to feel they are in good hands. This approach gives patients and their families hope, while helping young people return to living a more normal life.
Watch a recent news story about Kaitlyn on WJZ-TV Channel 13.
Visit KennedyKrieger.org/PainRehab to learn more about Kennedy Krieger's Pain Rehabilitation Program. For more information on chronic pain in children and teens, visit the website for "Becker's Hospital Review" to read an article by Dr. Slifer.