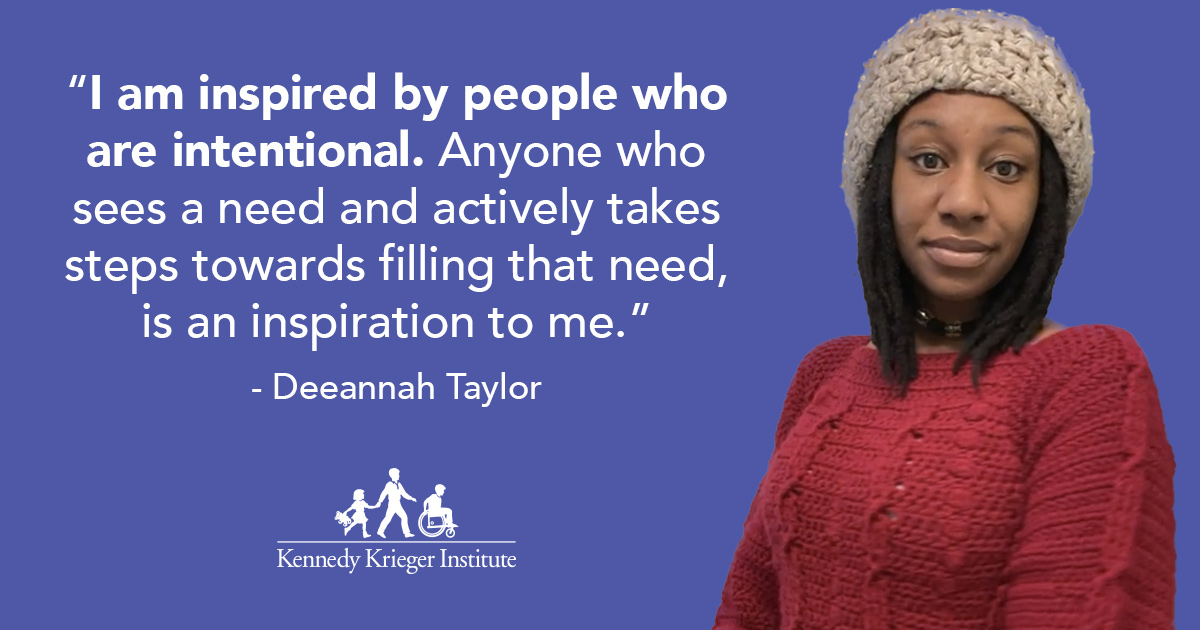 Meet Deeannah Taylor, a project manager at Kennedy Krieger.
Deeannah began her Kennedy Krieger career 13 years ago, working as a clinical assistant and spending most of her time as an educational services coordinator in our Neurobehavioral Unit (NBU). Through this role, Deeannah has assisted with staff and caregiver training, as well as therapeutic recreation and activity supervision.
Throughout her time at Kennedy Krieger, Deeannah has participated in various groups and activities, including volunteering with Camp SOAR, mentoring SummerWorks interns, and most recently, collaborating with colleagues to create and lead the Black Affinity Group (BAG). BAG is a safe space for Black staff members to share and discuss their experiences at the Institute, as well as mentor, train, and support the professional and personal development of fellow Black staff members.
Deeannah says of all the things she's accomplished as an employee, helping to establish BAG is one of the things she's most proud of. "I don't quite have the words to express how beautiful of an experience it has been," she says. "The networking, processing, learning, laughing, crying, and just growing with members of our group!"
From BAG, Deeannah and colleagues transitioned their mentoring subcommittee to our newest program—the Building Leaders Inside and Out (BLIO) Mentorship Program, which was specifically designed to support in the professional development of staff of color and those from marginalized groups.
The combination of Deeannah's experiences at the Institute helped develop her project management, coordination, and planning skills, which led to her current role as a project manager in Administration. Deeannah is passionate about her job and says that it inspires her and affords her the opportunity to pursue her main goals in life, which are to make things and help people.
In addition to feeling inspired at work, Deeannah cites her colleagues, as well as her friends and family, as daily sources of inspiration. "I am inspired by people who are intentional," she says. "Anyone who sees a need and actively takes steps towards filling that need is an inspiration to me."
This Black History Month, we thank Deeannah for all that she continues to do for the patients and staff of Kennedy Krieger. You inspire us, Deeannah!