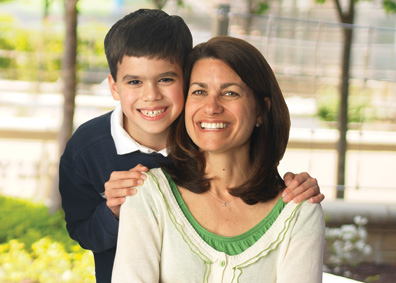 It was a perfect day at the beach. The sun was shining and the water was just right. Ben and his friends splashed in the waves and built sand castles, while his mom Joanne and the other parents chatted under the umbrellas, keeping a watchful eye on the children. But as the day came to a close, everyone headed back to the house, just a few blocks away.
What happened next would change Ben's life forever, and no one could possibly have seen it coming. One minute, everyone was enjoying a leisurely ride home on their bikes, and the next minute, tragedy struck when Ben was hit by a car. He was unconscious, and after paramedics determined the possibility of a brain injury, Ben was airlifted to a hospital three hours away. During the coming weeks, Joanne, her husband Dave, and their family could only wait and hope for the best.
"I really try not to remember those days," says Joanne. "You're watching your little child who looks fine, who just has a couple abrasions, but knowing that what looks like sleep is actually a coma." After 23 days in pediatric intensive care, it was time for Ben to begin rehabilitation at the Kennedy Krieger Institute. After all they had been through, the family needed reassurance as they faced an uncertain path.
"As we thanked everyone for what they had done for Ben, one of the doctors said 'the real miracles happen at Kennedy Krieger,'" Joanne recalls. When Ben arrived at the Pediatric Brain Injury Program at Kennedy Krieger Institute, his therapists had to start small because of the extreme severity of his injury.
"Ben had to relearn everything," says Joanne. "Not just how to walk and talk, but how to breathe and swallow. And the therapists at Kennedy Krieger knew how to help him do that."
His therapists worked to make him comfortable and to help him do something as seemingly simple as keeping his eyes open. Then they started moving his body for him, helping him sit in a chair. And after all that, they had Ben try to use the muscles in his torso and his arms.
As Ben continued to make small steps toward recovery, the therapists, nurses, and doctors found new and engaging ways to make therapy fun, a common practice in the Brain Injury Program. Kelly Dunkleberger, one of Ben's therapists, remembers trying to figure out exactly what made Ben laugh, what he enjoyed.
"We used all his interests from sports to video games," notes Kelly. "We would incorporate things like table hockey to help him relearn hand control, and we'd play video games so he could practice visual scanning."
For Joanne, the sense of play and personalization of Ben's therapies was one of the best parts of their time at Kennedy Krieger. A family favorite was VIP Video Game Fridays.
"Our treatment team knew that Ben was the kind of kid who appreciates recognition," Joanne says, "so they gave him a 'VIP' pass and let him play video games by himself for 20 minutes in the morning. It made him feel really special, and he wound up really enjoying his therapy."
Although to some it might seem like an unconventional approach, the team's understanding helped Ben make progress quickly. Now, just over a year later, Ben is back in school and his parents are making sure he gets as many opportunities as possible to enjoy his childhood. After Ben left the inpatient unit, he continued intensive outpatient therapy through the Institute. Joanne and Dave also received special parent training at Kennedy Krieger that taught them how to bring therapy into the home, so that the transition from the hospital to everyday life would be as seamless as possible. So, while Ben is having a blast swimming, shooting hoops, and running on the track team, he's actually getting therapeutic benefit.
"Not that long ago we were working to get him to just open his eyes," says Joanne, "and now we're worried about standardized tests at school. Now I know why they say the real miracles happen at Kennedy Krieger." And as far as his family is concerned, it can only go up from here.
I don't have limits for him," Joanne says. "I can't.