Brad Schlagger: I recently celebrated my one-year anniversary as Kennedy Krieger's president and CEO.
Over this past year, I have marveled at the resilience, perseverance and sheer determination of our patients and students, and their families and caregivers. Patients like Nick and his mom, Tracey.
Nick is a teenager who has severe autism. He was a happy, gentle child but around the time he turned 14, everything changed.
Nick was hurting himself, pretty severely, and had become a danger to his younger sibling and to classmates. Nick wasn't able to go to school anymore because of his behavior.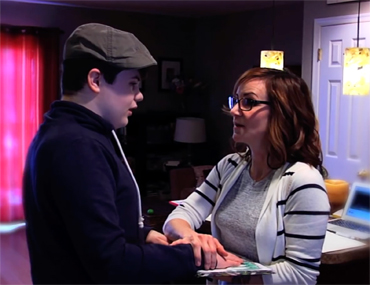 Nick's mom, Tracey, she was determined to get Nick the help he needed, and that brought them to the neurobehavioral inpatient program at Kennedy Krieger where he stayed as an inpatient for over 3 months while our clinicians worked to understand his behaviors, and help him learn ways to calm himself. And within a few months, he was able to return home to his family and school. In addition to no longer being a threat to his loved ones, something amazing happened. Nick discovered his remarkable gifts as an artist!
Part of Nick's therapy used drawing.
He loved it. In fact, Nick now sells his drawings to raise funds to support charitable causes!
Nick's mom says that their entire family is happier and healthier now. And, they are incredibly proud of his progress, of the gifted artist he's become, and they are grateful to have back at home their sweet, loving son and big brother.
Nick is one of 25,000 patients and students we see at Kennedy Krieger each year---every one of their stories is unique and inspiring. I am so grateful to be at the helm of this extraordinary and truly unique place. Kennedy Krieger is ONLY in Maryland, even though we serve kids and families from around the world. It's truly unique, Maryland gem.
I'm inspired every day by parents, like Tracey and kids who work so hard to overcome their challenges and pursue their dreams, like Nick.
Watch a video about Nick's journey: