Helping others comes naturally to Karen Colvin. "Children who face challenges embody strength that inspires us all," she says.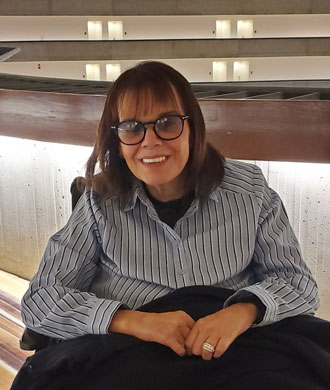 A lifelong resident of Baltimore, Karen began her career as a registered nurse, volunteering with the Special Olympics in her spare time. In her late 20s, she was injured in a car accident, her spinal cord seriously damaged, resulting in paralysis. Upon her return from rehabilitation out of state, she noticed a lack of resources for individuals with spinal cord injuries. Two years later, she founded and began directing the National Spinal Cord Injury Hotline at the University of Maryland. She went on to earn bachelor's and master's degrees while raising her two young children with her husband, and continued to advocate for individuals with disabilities.
This past summer, Karen came to Kennedy Krieger Institute for the first time, to be fitted for a wheelchair at the Institute's Seating Clinic. While she was there, she noticed speech-language pathologist Lauren Tooley, manager of Kennedy Krieger's Assistive Technology Clinic, working with a patient.
"It melted my heart, when I realized what she was doing," helping a child learn how to communicate, Karen says. "Then I went down the hall and saw kids using wheelchairs, walkers and modified equipment being helped by the staff. I fell in love with the kids." Karen returned to Kennedy Krieger several times last year to learn more. After meeting with Lauren, Karen decided to donate funds to create an Assistive Technology Lending Library. The library's iPads and adaptive accessories are available for patients with communication disorders to use at home when determining which devices work best for them, and as backups while their own devices are being repaired. Karen is also working with staff members to provide special puppets for speech-language pathologists to use in working with children with communication disorders.
"There should be an international spotlight on Kennedy Krieger."
– Karen Colvin
"It's hard to even comprehend the idea that a child has lost or is losing the ability to communicate," Karen explains. "Lauren's great at what she does, and I want to help her help the kids."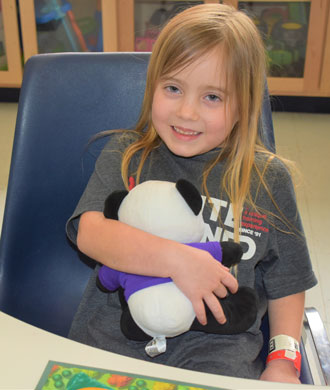 After touring Kennedy Krieger's outpatient clinics, inpatient hospital and Fairmount Campus, Karen also decided to donate stuffed animals for children attending Kennedy Krieger's rehabilitation programs and schools.
Karen shares her philanthropic interests with her family, including her son and daughter-in-law, Nick and Carrie Colvin, and daughter, Tracey Colvin. Her husband, the late John Colvin, and father, the late Morton Gorn, were both Baltimore-area real estate developers, philanthropists and disability rights advocates. "John was always seeking out ways to help those in need," Karen says.
As a Kennedy Krieger donor, Karen is excited to spread the word about the great work the Institute does. "I've lived in Baltimore my whole life, and never really knew how truly unique the Institute was until last year. There should be an international spotlight on Kennedy Krieger."
Learn more about how you can support the Institute in ways that are special and meaningful to you.