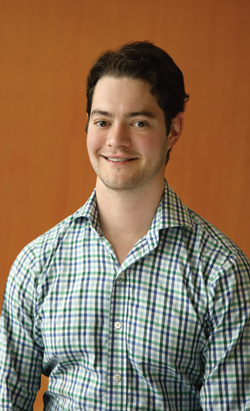 Two years ago, Jonathan Bresler started having dramatic back pain, strange neurological symptoms, and—whenever he tried to sit or stand—spasms. After his left side suddenly became weak, his wife, Sarah, a nurse, took him to the hospital. It was his first time checking in to an emergency room.
Jon, then 28, soon found himself in the neurointensive care unit, reviewing an MRI with a doctor. An intramedullary tumor—a benign mass, very difficult to access—was putting pressure on his spinal cord, threatening paralysis, and had just started bleeding, leaving Jon with no sensation from the chest down.
Jon, a hedge fund manager who lives in Washington, D.C., spent a month at The Johns Hopkins Hospital recovering from the bleed. He selected New York University's Langone Medical Center for surgery to remove the tumor and, on the advice of doctors at Johns Hopkins, Kennedy Krieger Institute's International Center for Spinal Cord Injury for rehabilitation.
"Right from my tour of the Institute," he says, "I could tell how passionate everyone was about the work they do." The Institute's dedication to spinal cord recovery impressed him, as did its program in aquatherapy, something his surgeon had recommended.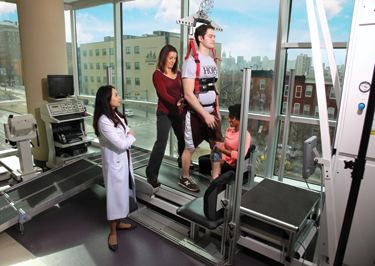 After two rounds of therapy at Kennedy Krieger, Jon's back on his feet. He also has a new passion: helping his fellow Kennedy Krieger patients get better, too.
"While I was doing my rehab, it was very humbling to look around the gym and see the other patients," he says. "Many of them were in situations that made mine look trivial, yet they were still there every day, working just as hard as I was.
"I saw a lot of children, and I thought to myself: 'These kids deserve to have a normal, happy life.'"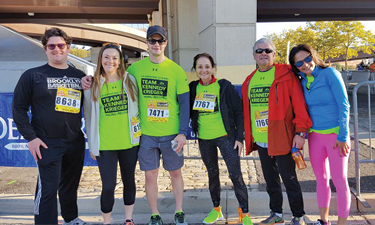 For the past two years, Jon has participated in the Baltimore Running Festival's 5K race, jogging some of the way, walking the rest, and raising money for Kennedy Krieger with every step. He and his wife have matched every dollar he's raised through the event, and many of his friends and family members—including his parents, Phyllis and Sidney Bresler—number among his many contributors.
Visit KennedyKrieger.org/BRF to learn more about the Institute's Baltimore Running Festival team.