The Sturge-Weber syndrome laboratory, directed by Dr. Anne Comi, has worked with for the past 24 years with collaborators to better understand the cause of Sturge-Weber syndrome (SWS) and to develop new treatment targets and strategies.
She helped lead studies which discovered the most common somatic mutation in GNAQ that is the underlying cause of Sturge-Weber syndrome.  Previously she developed and studied an immature mouse model of stroke and seizures; this model is still used by other researchers.  More recently, her studies have focused on tissue studies of pathways downstream of the mutation, developing a mouse genetic model, and working with collaborators to develop other new in vitro and mutation identification tools to better understand how the somatic mutation results in SWS.  Her overall research program includes SWS clinical research, with a translational clinic to bench and back approach.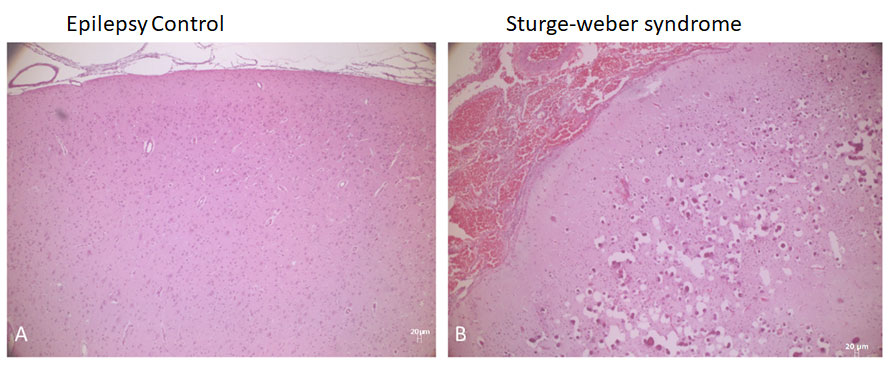 This Figure shows the G-protein cycle. GNAQ codes for G alpha q which is part of the trimeric G protein complex. The R183Q GNAQ mutation results in impaired deactivation of the downstream pathways, resulting in abnormal vascular structure and function. 
Publications from this lab include the following:
Genetic testing in the evaluation of individuals with clinical diagnosis of atypical Sturge-Weber syndrome. Yeom S, Cohen B, Weiss CR, Montano C, Wohler E, Sobreira N, Hammill AM, Comi A. Am J Med Genet A. 2023 Jan 29. 
Phosphorylated-S6 Expression in Sturge-Weber Syndrome Brain Tissue.  McCann M, Cho A, Pardo CA, Phung T, Hammill A, Comi AM. Journal of Vascular Anomalies 3(3):p e046, September 2022.
A novel somatic mutation in GNB2 provides new insights to the pathogenesis of Sturge-Weber syndrome. Fjær R, Marciniak K, Sundnes O, Hjorthaug H, Sheng Y, Hammarström C, Sitek JC, Vigeland MD, Backe PH, Øye AM, Fosse JH, Stav-Noraas TE, Uchiyama Y, Matsumoto N, Comi A, Pevsner J, Haraldsen G, Selmer KK .Hum Mol Genet. 2021 Oct 13;30(21):1919-1931.
Identification of a Mosaic Activating Mutation in GNA11 in Atypical Sturge-Weber Syndrome. Thorpe J, Frelin LP, McCann M, Pardo CA, Cohen BA, Comi AM, Pevsner J.J Invest Dermatol. 2021 Mar;141(3):685-688. 
Gαq and hyper-phosphorylated ERK expression in Sturge-Weber syndrome leptomeningeal blood vessel endothelial cells. Wellman RJ, Cho SB, Singh P, Tune M, Pardo CA, Comi AM; BVMC Sturge–Weber syndrome Project Workgroup. Vasc Med. 2019 Feb;24(1):72-75. 
Systemic injection of CD34(+)-enriched human cord blood cells modulates poststroke neural and glial response in a sex-dependent manner in CD1 mice. Kadam SD, Chen H, Markowitz GJ, Raja S, George S, Verina T, Shotwell E, Loechelt B, Johnston MV, Kamani N, Fatemi A, Comi AM. Stem Cells Dev. 2015 Jan 1;24(1):51-66.
A needle in a haystack: Sturge-Weber syndrome gene discovery. Comi AM, Marchuk DA, Pevsner J.Pediatr Neurol. 2013 Dec;49(6):391-2. 
Impact of trichostatin A and sodium valproate treatment on post-stroke neurogenesis and behavioral outcomes in immature mice.  George S, Kadam SD, Irving ND, Markowitz GJ, Raja S, Kwan A, Tu Y, Chen H, Rohde C, Smith DR, Comi AM. Front Cell Neurosci. 2013 Aug 19;7:123.
Sturge-Weber syndrome and port-wine stains caused by somatic mutation in GNAQ.
Shirley MD, Tang H, Gallione CJ, Baugher JD, Frelin LP, Cohen B, North PE, Marchuk DA, Comi AM, Pevsner J.N Engl J Med. 2013 May 23;368(21):1971-9. 
Cell proliferation and oxidative stress pathways are modified in fibroblasts from Sturge-Weber syndrome patients. Kadam SD, Gucek M, Cole RN, Watkins PA, Comi AM. Arch Dermatol Res. 2012 Apr;304(3):229-35.
Different effects of high- and low-dose phenobarbital on post-stroke seizure suppression and recovery in immature CD1 mice. Markowitz GJ, Kadam SD, Smith DR, Johnston MV, Comi AM. Epilepsy Res. 2011 May;94(3):138-48.
Neonatal stroke in mice causes long-term changes in neuronal Notch-2 expression that may contribute to prolonged injury. Albéri L, Chi Z, Kadam SD, Mulholland JD, Dawson VL, Gaiano N, Comi AM. Stroke. 2010 Oct;41(10 Suppl):S64-71.
Functional integration of new neurons into hippocampal networks and poststroke comorbidities following neonatal stroke in mice. Kadam SD, Smith-Hicks CL, Smith DR, Worley PF, Comi AM. Epilepsy Behav. 2010 Aug;18(4):344-57.
Impact of age and strain on ischemic brain injury and seizures after carotid ligation in immature mice. Comi AM, Trescher WH, Abi-Raad R, Johnston MV, Wilson MA. Int J Dev Neurosci. 2009 May;27(3):271-7. 
Gabapentin neuroprotection and seizure suppression in immature mouse brain ischemia. Traa BS, Mulholland JD, Kadam SD, Johnston MV, Comi AM. Pediatr Res. 2008 Jul;64(1):81-5.
Immature mouse unilateral carotid ligation model of stroke. Comi AM, Johnston MV, Wilson MA. J Child Neurol. 2005 Dec;20(12):980-3
Sturge-Weber syndrome: altered blood vessel fibronectin expression and morphology.
Comi AM, Weisz CJ, Highet BH, Skolasky RL, Pardo CA, Hess EJ.J Child Neurol. 2005 Jul;20(7):572-7. 
Increased fibronectin expression in sturge-weber syndrome fibroblasts and brain tissue.
Comi AM, Hunt P, Vawter MP, Pardo CA, Becker KG, Pevsner J.Pediatr Res. 2003 May;53(5):762-9.