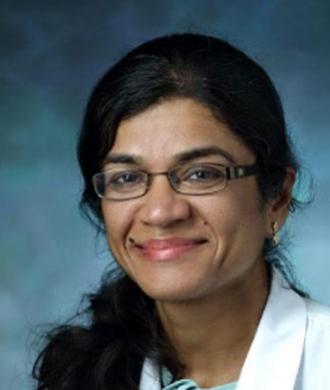 Research Scientist
Kennedy Krieger Institute
707 N. Broadway
Baltimore, MD 21205
United States
About
Sujatha Kannan is a research scientist at the Hugo Moser Research Institute at Kennedy Krieger Institute. She is also a faculty member in pediatric anesthesiology and critical care medicine at Johns Hopkins University. Her research interests include imaging and targeted therapy for perinatal brain injury using nanotechnology, with a special emphasis on cerebral palsy and autism.
Education
Dr. Kannan completed her medical training at the Jawaharlal Institute of Postgraduate Medical Education and Research (JIPMER) in India, and a pediatric residency followed by a fellowship in pediatric critical care at the Children's Hospital of Michigan in Detroit in 2003, where she remained as a faculty member until July 2011. She joined Johns Hopkins University and Kennedy Krieger Institute in August 2011. She is board certified in pediatrics and pediatric critical care medicine. Dr. Kannan's translational research involves an innovative approach to developing therapeutic strategies for neuroinflammatory disorders in children, using a unique combination of animal model development, nanotechnology, and in vivo imaging.
Research
Maternal inflammation/infection is a risk factor for the development of brain injury in the fetus resulting in disorders such as cerebral palsy and autism. This injury may be mediated by activated microglia and astrocytes in the developing brain. The long-term goal of this research group is to understand the mechanism and progression of the cellular and metabolic derangements leading to brain injury during development, and to use this information to design specific targeted therapy using nanotechnology. To study this, our lab has developed an animal model to demonstrate that exposure to maternal inflammation/infection in utero results in a phenotype of cerebral palsy in the newborn period.
We have also shown that maternal inflammation results in neuroinflammation in the neonatal rabbit that can be detected non-invasively by PET imaging and that this can be used as a non-invasive biomarker to predict the extent of motor deficits. This neuroinflammatory response persists for a period of time after birth thereby providing a window of opportunity for therapeutic interventions. Inflammation also results in alterations in tryptophan metabolism in the placenta and fetal brain leading to increased production of neurotoxic metabolites and decreased serotonin in the fetal brain. We are also interested in understanding the effects of inflammation induced serotonin depletion on the developing brain and its effects on behavior and function.
Working with collaborators at the Center for Nanomedicine (Wilmer Institute, Johns Hopkins University), our group has discovered that dendrimers (5 nm tree-like, nanostructured polymers) have an intrinsic ability to target cells associated with neuroinflammation, even upon systemic administration. Based on this finding, our team has shown that treatment after birth with an anti-inflammatory agent using this nanotechnology approach for an insult in the prenatal period (before birth) produces a dramatic improvement in motor function and associated brain injury in our animal model with neuroinflammation and cerebral palsy. Our group is interested in utilizing these novel nanodevices in manipulating the inflammatory response in the newborn/developing brain for treatment of disorders such as cerebral palsy and autism.
Research Publications
Zhang F, Trent Magruder J, Lin YA, Crawford TC, Grimm JC, Sciortino CM, Wilson MA, Blue ME, Kannan S, Johnston MV, Baumgartner WA, Kannan RM (2017). Generation-6 hydroxyl PAMAM dendrimers improve CNS penetration from intravenous administration in a large animal brain injury model. J Control Release. 249, 173-182.