Peter A.
Girolami
,
PhD, BCBA-D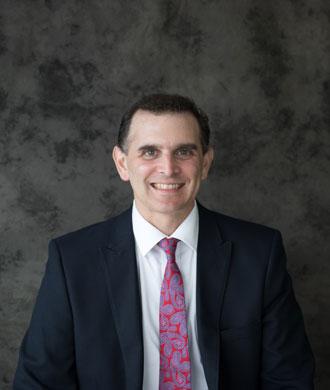 Program Director, Pediatric Feeding Disorders Program
Kennedy Krieger Institute
707 N. Broadway
Baltimore, MD 21205
United States
About
Dr. Peter A. Girolami is the program director for the Pediatric Feeding Disorders Program. He is also an assistant professor of Psychiatry and Behavioral Sciences at The Johns Hopkins University School of Medicine.
Education
Dr. Girolami earned a doctorate in clinical psychology in 2005 at West Virginia University. He completed a pre-doctoral internship at the Kennedy Krieger Institute and in the Department of Pediatrics at Johns Hopkins University School of Medicine. Dr. Girolami has been with the Pediatric Feeding Disorders Program since 2002, working with children with feeding difficulties, intellectual disabilities, and autism spectrum disorders. He is currently a member of the faculty at Kennedy Krieger Institute, where he serves as a clinical director and case manager for the pediatric feeding disorders program in the Department of Behavioral Psychology. He is a licensed psychologist in the state of Maryland and a board-certified behavior analyst (BCBA-D). He is a member of the Association for Behavior Analysis and Maryland Association for Behavior Analysis.
Research
Dr. Girolami's training, research and experience have focused on the application of behavior analytic principles to the assessment and treatment of severe feeding problems and related behavioral concerns in individuals with or without developmental disabilities. His research interests include developing treatments to increase consumption in children with pediatric feeding disorders, the relation between biological and environmental variables in the onset and maintenance of feeding disorders and increasing caregiver adherence to treatment recommendations.
Related Links
Elsevier Fingerprint Engine Profile for Peter Girolami
Research Publications
Yeung KA, Taylor T, Scheimann A, Carvalho R, Reinhardt E, Girolami P, Wood R (2015). The Prevalence of Food Allergies in Children Referred to a Multidisciplinary Feeding Program. Clin Pediatr (Phila). 54(11), 1081-6.
Laud RB, Girolami PA, Boscoe JH, Gulotta CS (2009). Treatment outcomes for severe feeding problems in children with autism spectrum disorder. Behav Modif. 33(5), 520-36.
Girolami PA, Boscoe JH, Roscoe N (2007). Decreasing expulsions by a child with a feeding disorder: using a brush to present and re-present food. J Appl Behav Anal. 40(4), 749-53.
Other Publications
Differential reinforcement of high rate behavior to increase the pace of self-feeding
Kozlowski, A. M., Taylor, T., Pichardo, D., & Girolami, P. A. (2016). The Impact of Emerging Liquid Preference in the Treatment of Liquid Refusal. Journal of Developmental and Physical Disabilities, 28(3), 443-460. doi:10.1007/s10882-016-9482-4