John J.
Laterra
,
MD, PhD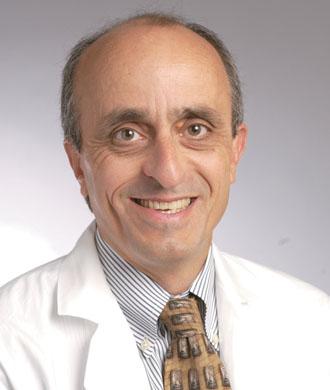 Director, Division of Neuro-Oncology, Johns Hopkins Hospital
Kennedy Krieger Institute
707 N. Broadway
Baltimore, MD 21205
United States
About
John J. Laterra is a research scientist at Kennedy Krieger Institute. He is also a professor in the Department of Neurology, Neuroscience and Oncology at Johns Hopkins University School of Medicine and Kennedy Krieger Institute. He is the director of the Division of Neuro-Oncology in the Department of Neurology at Johns Hopkins.
Education
Dr. Laterra received his bachelor's of arts Phi Beta Kappa from Washington University in St. Louis, where he majored in physics. He then attended Case Western Reserve University in Cleveland in their medical scientist training program, where he obtained first a doctorate in microbiology in 1982, followed by a medical degree in 1984. He was elected to Alpha Omega Alpha in 1984. He served an internship in internal medicine, as well as a residency and chief residency in neurology at the University of Michigan at Ann Arbor. Dr. Laterra came to Johns Hopkins and the Kennedy Krieger Institute in 1988.
Dr. Laterra is a member of the American Academy of Neurology, the American Neurological Association, the American Association for the Advancement of Science, the American Association for Cancer Research and the Society for Neuro-Oncology. He is on the Scientific Advisory Council of the American Brain Tumor Association and a member of the Brain Disorders and Clinical Neurosciences-4 Study Section of the National Institutes of Health.
Research
Dr. Laterra's laboratory focuses on the cellular and molecular biology of primary brain tumor malignancy, with the combined goals of defining basic mechanisms and translating these discoveries into experimental therapeutics. He is particularly interested in the molecular mechanisms of glioma cell growth and survival pathways, tumor-related angiogenesis, and the functioning of the blood-brain and blood-tumor barriers.
Dr. Laterra is also interested in developing novel gene delivery strategies applicable to brain and brain tumors. Novel chimeric ribozymes are presently being used for in vitro and pre-clinical in vivo gene targeting. He has also pioneered the development of cellular platforms for transfering genes and their products to brain and brain tumors. His laboratory has focused these efforts on endothelial cell-based and more recently pluripotent stem cell-based strategies.
Related Links
Elsevier Fingerprint Engine Profile for John Laterra
Research Publications
Laterra JJ, Grossman SA, Carson KA, Lesser GJ, Hochberg FH, Gilbert MR, NABTT CNS Consortium study (2004). Suramin and radiotherapy in newly diagnosed glioblastoma: phase 2 NABTT CNS Consortium study. Neuro Oncol. 6(1), 15-20.