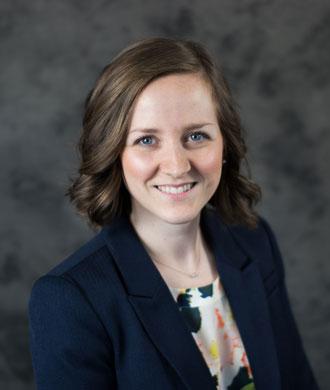 Manager, Quality Improvement Informatics Enterprise Intelligence, Information Systems
About
Erin F. Jones currently serves as the Manager of Quality Improvement Informatics on the Enterprise Intelligence team at Kennedy Krieger Institute and specializes in survey development and quality improvement research. Through her cross-institutional role, she provides consultative services and informatics support to Institute programs and grant-funded research studies.
Jones joined the Department of Neuropsychology in 2013 and served as the Manager of Research Operations from 2015 to 2021. In 2021, she joined the Enterprise Intelligence team in the Information Systems Department where she serves as the principal administrator of the Kennedy Krieger Qualtrics license and works with Institute faculty and staff to plan, implement, conduct, and evaluate clinical research and quality improvement programs.
Jones also serves as the Project Manager of the Intellectual and Developmental Disabilities Research Center (IDDRC), where she provides logistical, administrative and research-related support to Center leadership and supported investigators throughout the Kennedy Krieger and Johns Hopkins communities.
Education
Jones received her Bachelor of Arts degree in Psychology from the University of Delaware in 2009, where she also worked with preschool-aged children in the Human Emotions Lab as an undergraduate research assistant.
Research
While she provides cross-disciplinary research support to studies across the Institute, Jones' research interests are focused on survey development and implementation, quality improvement initiatives and outcomes measures. She works closely with the Assistant Vice President of Clinical Research and Quality Improvement, Dr. T. Andrew Zabel, on quality improvement studies and initiatives for clinical programs throughout the Institute. Her recent research and publications have focused on pediatric self-report of clinical experience, accessibility to telemedicine care, longitudinal impact of clinical care on caregiver self-efficacy and supporting the wellbeing of caregivers and educators of children with intellectual and developmental disabilities during the COVID-19 pandemic.