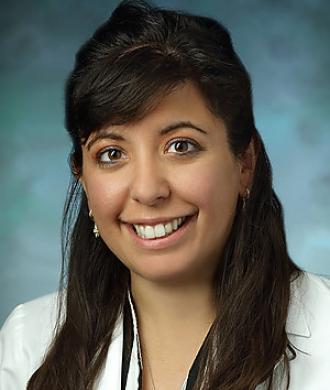 About
Dr. Kokorelis is a rehabilitation physician at Kennedy Krieger Institute and is also an assistant professor of physical medicine and rehabilitation at the Johns Hopkins School of Medicine. Dr. Kokorelis provides patient care in the Postural Orthostatic Tachycardia Syndrome (POTS) Clinic and the Concussion Clinic.
Education
Dr. Kokorelis received her medical degree from the University of Maryland School of Medicine in 2013. She completed her physical medicine and rehabilitation residency training at Johns Hopkins University School of Medicine and then went on to complete the fellowship training in pediatric rehabilitation medicine at Kennedy Krieger Institute/Johns Hopkins Hospital. During her residency, she served as chief resident and won the Johns Hopkins Healer Award twice, as well as the Frank L. Coulson Jr. Resident Award for Clinical Excellence.
Research
Dr. Kokorelis' research interests include pediatric POTS, neurally mediated hypotension (NMH), spinal cord injuries and assistive technologies.