Aarya
Krishnan Rajalakshmi
,
MBBS, MD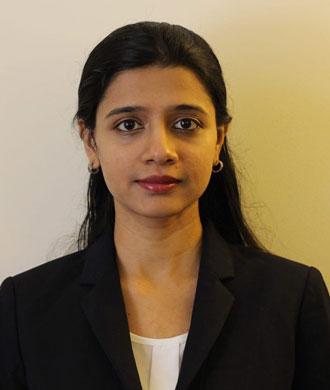 Child and Adolescent Psychiatrist and Assistant Professor
Kennedy Krieger Institute
1741 Ashland Avenue
Baltimore, MD 21205
United States
About
Dr. Rajalakshmi is a child and adolescent psychiatrist and assistant professor at the Kennedy Krieger Institute. She also holds a faculty position in the Department of Psychiatry at the Johns Hopkins University School of Medicine. She works with patients in the Psychiatric Mental Health Program as well as the Center for Autism and Related Disorders (CARD).
Education and Training
Dr Rajalakshmi completed her General Psychiatry residency training at the Drexel University College of Medicine/Hahnemann University Hospital, Philadelphia, PA and a Child and Adolescent Psychiatry fellowship at the Massachusetts General Hospital/ McLean hospital, Harvard Medical School, Boston, MA.
She obtained her medical degree from the PSG Institute of Medical Sciences and Research in India followed by psychiatry residency at the Post Graduate Institute of Medical Education and Research, India prior to her training in the United States.
Apart from residency and fellowship training, Dr Rajalakshmi worked as a senior resident doctor in Psychiatry, first at the Institute of Human Behavior and Allied sciences and then at the All India Institute of Medical Sciences, New Delhi in India for a period of three years upon the completion of her initial Psychiatry residency in India.
Research Summary
Dr Rajalakshmi has varied research interests and has been closely involved in systematic research pursuits over the past several years. This has included involvement in multiple projects focused on examining clinical and cognitive characteristics and outcomes associated with delirium. As a research scholar at the Zucker Hillside Hospital, NY, she was involved in a longitudinal research project centered on the enhanced characterization of the bipolar prodromal phenotype in children and adolescents. Over the years she has continued to engage in scholarly work and publications that have included but are not limited to Postpartum Depression, ADHD and the role of Psychotherapeutic interventions in reducing suicide risk amongst others. Within the realm of Child and Adolescent Psychiatry she nurtures a keen interest in Childhood obsessive-compulsive, mood and anxiety disorders
Related Links