PACT has been serving Baltimore area children and families for over four decades.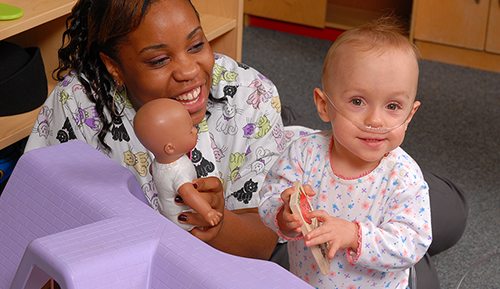 New Beginnings
PACT: Helping Children with Special Needs began as a demonstration project at the University of Maryland Hospital, Department of Pediatrics in 1978. Funded by Maryland Children's Medical Services, it was one of Maryland's first early intervention programs for infants and toddlers who were at high risk for or who had identified developmental delays.
Forming An Organization
In September 1981, the program transitioned from its status as a university project to that of a private, non-profit organization. The new organization was officially incorporated as Intervention with Parents and Children Together, Inc., but was commonly known in the community as PACT. Later, its Board legally changed the name of the organization to include a better description of its mission, i.e., PACT: Helping Children with Special Needs.
Affiliating With Kennedy Krieger
In March, 1998, PACT became an affiliate of the Kennedy Krieger Institute, a decision that brought new resources to both organizations. Although affiliated, PACT retained its own 501 (c)(3) status, a separate Board of Directors and responsibility for securing funding for its programs. View a PDF version of our most recent audit.
PACT Today
Through ongoing staff training and continuous interactions with other providers, PACT keeps abreast of the latest techniques for helping children with complex needs. PACT has taken a leadership role in the field by designing and implementing programs not available anywhere in the Baltimore metropolitan region.