By Laura Thornton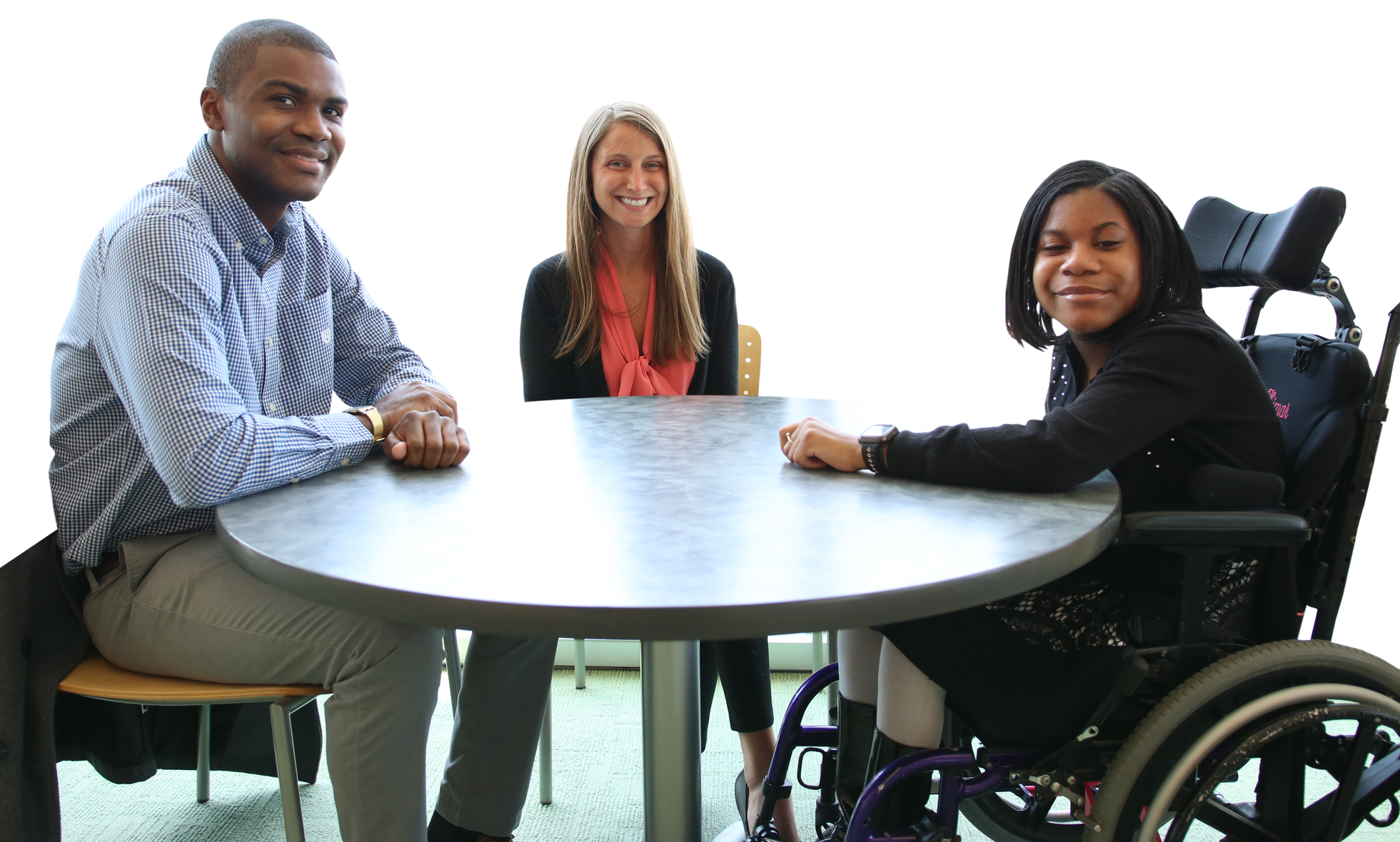 For the Maryland Center for Developmental Disabilities (MCDD) at Kennedy Krieger Institute, which advocates for individuals with developmental disabilities, it is important to practice what it preaches.
"Several of our staff members have one or more disabilities—including cerebral palsy, epilepsy and low vision—and some of our staff members use augmentative or alternative communication methods," explains Maureen van Stone, director of the MCDD, one of a national network of University Centers for Excellence in Developmental Disabilities. "We demonstrate how the Institute can support individuals with disabilities in having meaningful employment, and how the Institute can adapt to the needs of its staff members."
The MCDD's mission is to advance the inclusion of people with intellectual, developmental and other disabilities. It serves a highly diverse population—racially, ethnically and ability-wise— that is often underserved when it comes to medical care and legal representation. Its staff, which includes bilingual lawyers and self-advocates, works tirelessly to spread awareness about the needs of individuals with disabilities; advocate for individuals' rights at the local, state and national levels; and train others in advocacy. The MCDD's Project HEAL (Health, Education, Advocacy, and Law), a community-based medical-legal partnership also directed by van Stone, provides legal and advocacy services to the Institute's patients and their families.
Cultural and Linguistic Competency
In 2018, van Stone invited a team specializing in cultural and linguistic competency from Georgetown University to help MCDD staff members develop a finer sensitivity to the importance of recognizing and respecting cultural differences. The team's visit resulted in a number of actions to better ensure equity, diversity and inclusion in the MCDD's work.
One of those was to start doing a staff-led cultural and linguistic competency exercise at the beginning of each monthly meeting of the MCDD's leadership team. "I think this leads not only to competence in these areas, but also to more team bonding," van Stone says. This example is followed by many departments across the Institute.
A Seat at the Table
Employing individuals with disabilities ensures that all voices are heard—both within the Institute and, through the MCDD's advocacy work, outside of it. Especially when it comes to advocacy, the MCDD's approach is "nothing about us without us."
I think what made our efforts so successful was that they were led by individuals with disabilities."
– Mat Rice
For example, Mat Rice, public policy specialist for People On the Go Maryland (POG), a partnership between the MCDD and the Maryland Developmental Disabilities Council, was a leader in ensuring the 2016 passage of the Maryland Ken Capone Equal Employment Act, named after POG's director, to end subminimum wages for individuals with disabilities.
"When I attended Maryland School for the Blind, my vocational training consisted of going to a place referred to as 'the workshop,'" Rice explains. "At the time, I thought this was unique to my school, but when I got into the disability field, I realized that it wasn't, and that this has happened to people for years." In the workshop, Rice did menial tasks such as shredding paper and crushing cans, and was paid "pennies on the dollar. I was lucky if I would end up with enough money to buy a sandwich at the school cafe at the end of a week."
Getting the Ken Capone Equal Employment Act passed was no easy feat, and required months of collaboration with other advocacy groups and state legislators. "I think what made our efforts so successful," Rice says, "was that they were led by individuals with disabilities."