Scholarship expands opportunity and accessibility to PACT's medical child care program for children in need, regardless of their family's income or ability to pay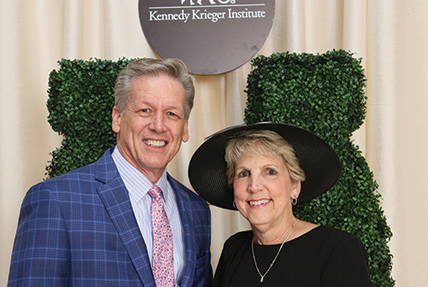 BALTIMORE, February 19, 2020 – On Tuesday, February 18, 2020, the board of directors at Rosedale Federal Savings & Loan Association honored the memory and legacy of Mark Furst, former board member of Rosedale Federal and former senior vice president of external relations at Kennedy Krieger Institute who passed away from glioblastoma in Nov. 2019, with a $100,000 matching donation to the Mark and Sandy Furst Scholarship Fund for Kennedy Krieger's affiliate organization PACT: Helping Children with Special Needs. PACT is the only specialized child care center in Central Maryland for young children with complex medical needs or infants and toddlers who are experiencing homelessness.
"The Furst Scholarship Fund provides many medically fragile children access to safe, caring and stimulating childcare regardless of the family's ability to pay the full cost for the care," said Audrey Leviton, executive director of PACT: Helping Children with Special Needs and assistant vice president of Kennedy Krieger Institute. "For families who have nowhere else to turn, PACT can be the difference that allows parents to continue to work and maintain health insurance for their child and family."
During his time on the PACT Board of Directors, Furst shared his vision of establishing a fund to make care affordable for families in the program, ultimately leading to the creation of the Mark and Sandy Furst Scholarship Fund. By supporting a family's access to the specialized care, educational resources, and vital support services at PACT, a positive and transformative trajectory is set for children who would likely otherwise face significant challenges at the start of their young lives.
"As a passionate supporter of the PACT mission, Mark was dedicated to improving the lives of the children and families served there," said Kevin M. Benson, president and CEO of Rosedale Federal. "We are humbled to honor Mark's memory and continue his legacy at PACT through the Mark and Sandy Furst Scholarship Fund at PACT."
Ensuring that all children get the proper start in life is the goal that has been driving PACT since 1981. While PACT receives government, foundation and corporate grants, as well as donations from generous private donors, PACT's funding does not cover the actual cost of providing the complex array of services that the children and families require. For more information about PACT and the Mark and Sandy Furst Scholarship Fund or to support this important cause, visit https://www.kennedykrieger.org/community/initiatives/pact.
About Kennedy Krieger Institute:
Kennedy Krieger Institute, an internationally known, non-profit organization located in the greater Baltimore/Washington, D.C. region, transforms the lives of more than 25,000 individuals a year through inpatient and outpatient medical, behavioral health and wellness therapies, home and community services, school-based programs, training and education for professionals and advocacy. Kennedy Krieger provides a wide range of services for children, adolescents and adults with diseases, disorders or injuries that impact the nervous system, ranging from mild to severe. The Institute is home to a team of investigators who contribute to the understanding of how disorders develop, while at the same time pioneer new interventions and methods of early diagnosis, prevention and treatment. Visit KennedyKrieger.org for more information about Kennedy Krieger.