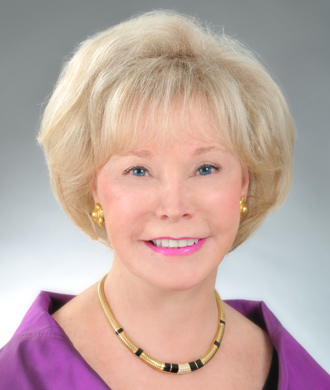 BALTIMORE, July 9, 2018 – Kennedy Krieger Institute announced today that Nancy Grasmick, Ed.D. begins her term as chair of its board of directors after serving as vice chair for the past four years. The first woman to hold the leadership position as chair, Dr. Grasmick joined the board in 2011. The Kennedy Krieger Board also named Baltimore Ravens' President Dick Cass as vice chair and elected new board members Michael Singer, executive managing director of Newmark Knight Frank, and Rick Rudman, president and CEO at MaxSalePrice.com.
 
Dr. Grasmick is currently the co-director of Kennedy Krieger's Center for Innovation and Leadership in Special Education, an innovative fellowship program that prepares teachers and administrators as special education leaders to optimize learning for children with neurodevelopmental disabilities. Known for her strong focus on student achievement, teacher quality and public-school funding, Dr. Grasmick served as Maryland State Superintendent of Schools for 20 years. During her tenure, Education Week ranked Maryland #1 in the country for five consecutive years. Dr. Grasmick secured a coveted $250 million Race to the Top grant from the U.S. Department of Education. She was recently appointed professor at the University of Maryland, College Park's College of Education and in 2012 was appointed the Presidential Scholar for Innovation in Teacher and Leader Preparation at Towson University.
 
"Whether it's training educators, pioneering policy reform or advocating on behalf of youth, Nancy has had a tremendous impact on the education of hundreds of thousands of students by transforming the way they learn and how educators teach," said outgoing Kennedy Krieger Board Chair Howard B. Miller, Esq. "During her time on the Kennedy Krieger board, and through her leadership as a faculty member, she has dedicated herself to ensuring that students with neurodevelopmental disabilities are given the same access to education as their typically developing peers. And, she's advocated for our patients and their families, whether for world-class clinical care or access to the supports they need to succeed. There is no one more deserving or fitting to be our board's next chair."
 
Dr. Grasmick commented, "I am humbled and honored to be elected the next board chair of this prestigious organization that has done so much for so many children and families from around the world. This will be a very exciting year as Bradley (Brad) Schlaggar, M.D., Ph.D. joins us as Kennedy Krieger's new president and CEO. I'm very much looking forward to working with him, and the board, to continue Kennedy Krieger's tremendous growth and impact."
 
In addition to naming Dr. Grasmick as chair, the board elected Dick Cass as vice chair and voted onto the board two new members:
 
Dick Cass
President, The Baltimore Ravens
In his 15th year as president of the Ravens, Cass oversees every area of the organization including player and staff personnel, the coaching team, corporate sales, communications and business ventures. In addition to his tenure with the Ravens, Cass also served as counsel to NFL owners, including the Washington Redskins and the Dallas Cowboys, as well as the NFL Office. A resident of Chevy Chase, Md., he is a graduate of Princeton University and Yale Law School. Cass clerked for a federal judge before joining Wilmer, Cutler & Pickering (now, WilmerHale) where he was an associate and then a partner for nearly 32 years. Cass has been a member of the Kennedy Krieger board for 14 years.
 
Michael Singer
Executive Managing Director, Newmark Knight Frank
With nearly 20 years of experience in real estate and development, Singer serves as executive managing director of Newmark Knight Frank, an international commercial real estate advisory firm, where he is responsible for the overall team strategy, performance and revenue generation of the Baltimore office, and the recruitment and retention of practice members. Singer received a Bachelor of Arts degree in sociology from the University of Maryland, College Park. He is a former member of the Business Volunteers of Maryland Board and serves as board chair of PACT, an affiliate of Kennedy Krieger, one of Maryland's first early intervention programs for infants and toddlers who are at high risk for or have identified developmental delays.
 
Rick Rudman
President and CEO, MaxSalePrice.com
An accomplished businessperson and entrepreneur Rudman has extensive experience in software development and launching successful companies. As president and CEO of MaxSalePrice.com, Rudman helped create and launch the business, which is the first of its kind to provide pre-sale home improvement solutions for homeowners who desire rapid sale. Prior to joining MaxSalePrice.com, Rudman served as chairman and CEO for Tracx, a leading provider of social media software based in Bethesda, Md. and, prior to that, Vocus, a public software company that provides cloud-based software for public relations and marketing professionals. A veteran of the U.S. Air Force and resident of Rockville, Md., Rudman is a certified public accountant who received his Bachelor of Science degree in accounting from the University of Maryland, College Park.
For more information about Kennedy Krieger's Board of Directors and to view the complete list of members, visit the
Board of Directors page
.
About Kennedy Krieger Institute:
Internationally recognized for improving the lives of children and adolescents with disorders and injuries of the brain, spinal cord and musculoskeletal system, Kennedy Krieger Institute in Baltimore, Maryland, serves 24,000 individuals a year through inpatient and outpatient clinics, home and community services, and school-based programs. Kennedy Krieger provides a wide range of services for children with developmental issues, from mild to severe, and is home to a team of investigators who are contributing to the understanding of how disorders develop, while at the same time pioneering new interventions and methods of early diagnosis. Visit
KennedyKrieger.org
for more information about Kennedy Krieger.
Media Contact:
Jamie Watt Arnold
PROFILES
###