The MCDD recently hosted its third intern from Project SEARCH at Kennedy Krieger Institute, whose programs are currently being held online.
Will Frisinger likes to play drums, watch car and truck videos, and ride his Tao Motor four-wheeler vehicle. Will is an avid music fan, and his favorite bands are Soundgarden, Pearl Jam and The Black Keys.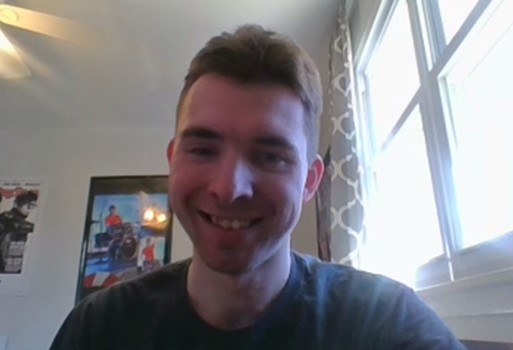 As a Project SEARCH intern with the MCDD, Will learned about maintaining professionalism in the workplace. He enjoyed the daily Zoom meetings, and especially liked meeting and working with new people. Topics covered in Will's internship included learning American Sign Language vocabulary and about special events like Women's History Month.
Will learned graphic design skills and created a flyer for People On the Go Maryland (POG). He also researched statistics to share on POG social media pages during Developmental Disabilities Awareness Month. Will joined in the MCDD team meetings and facilitated a cultural and linguistic competency activity in which MCDD members conducted self-assessments in an effort to manage the dynamics of diversity.
"Will has been a great help to the MCDD," says Megan Meck, the MCDD's program coordinator. "He's excited to be here and ready for any assignment."
Project SEARCH at Kennedy Krieger Institute is a 10-month transition-to-work program for individuals ages 18 through 24. It provides hands-on training through integrated worksite rotations, career exploration and mentoring from experienced staff members. Its goal is for interns to use their internships skills to gain competitive employment.
The MCDD is excited about its collaboration with Project SEARCH at Kennedy Krieger Institute and intends to stay involved for many years to come. The program is one of 14 Project SEARCH sites across Maryland.