For the fourth year in a row, the Women's Initiative Network (WIN) raised money for Camp SOAR (Sibling Outdoor Adventure Retreat), a three-day, two-night weekend retreat offered to former Kennedy Krieger Institute inpatients and their siblings, ages 8–16. This year's camp wrapped up on Sunday, June 3, with a celebration luncheon and awards ceremony.
Camp SOAR is designed to enhance sibling relationships, and it offers team-building activities, tools and strategies for carrying over the lessons learned at camp to the home environment. The camp also promotes disability awareness and acceptance to help participants learn to recognize the strengths and abilities of others. 

The camp is staffed by Kennedy Krieger employees serving as volunteers under the guidance of the Child Life and Therapeutic Recreation department. This year, two WIN members were among the employee volunteers. Here is what they had to say about why they volunteered: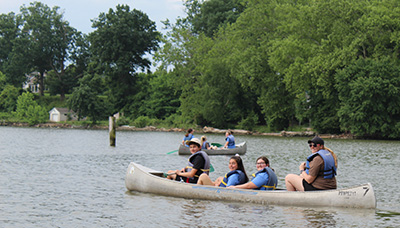 This was my first year attending Camp SOAR, and it really illustrated to me that Kennedy Krieger goes above and beyond for its patients and families. Volunteering at camp opened my eyes to just how incredibly special this camp is for the campers. It is a chance for the kids to be like any other kids, and spend a weekend at a summer camp. The smiles I witnessed at camp really made an impression on my heart, and I feel grateful to work at such a wonderful institution. –Alexandra G.

Not only does Camp SOAR allow parents the opportunity to have a fun, relaxing, stress-free weekend together, knowing their children are being provided with the necessary care, but it also allows siblings, some of whom act as caretakers to their brother or sister with a disability, to relax and be a kid. On top of that, Camp SOAR gives our patients an opportunity and experience that would otherwise be closed off to them. When I think about how much good comes out of this camp for our patients and their families, from just a few hours of my time, how can I say "no" to that? That's why I volunteer. – Theresa M.