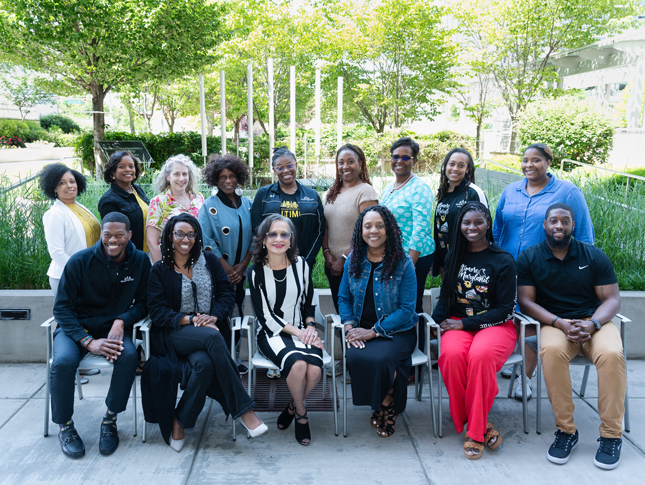 Back row: Evelyn Johnson, Alexis Bruce, Louise Heck, Deborah Swift-Bailey, Pamela Fisher, Dr. Nia Wallace-Ward, Shellie Williams, Veronica Myers and Lauren Burke-Coursey. Front row: Christopher Graves, Deeannah Taylor, Dr. Harolyn Belcher, Tracee Hutt-Brown, Emma Hughes and Darius Sanders.
Upbeat music plays in the background as members of Kennedy Krieger Institute's Black Affinity Group, affectionately known as the B.A.G., join their lunchtime Zoom meeting, checking in with each other and wishing everyone a great weekend.
Members take turns leading the biweekly Friday meetings. This week, Jasmine Preston leads, starting with reading the group's mission statement, which begins: "The B.A.G. is a safe space to discuss, unpack and improve the experiences of Black staff at Kennedy Krieger."
The B.A.G. is the Institute's first affinity group for employees. Open to everyone—solidarity partners and allies—it's chartered to support staff members who are Black.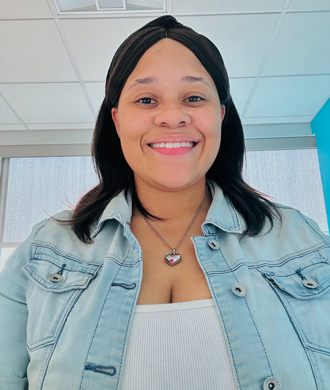 "This community is amazing," says Preston, a child care aide for the Institute's Center for Autism and Related Disorders. "The moment I first heard of it, I wanted to be a part of it. I appreciate everyone in this community, and I love how it is growing."
The group formed in September of 2020. "There was a lot going on in the realm of social justice at that time, and we realized we were coming to work as if everything was fine, while dealing with additional levels of stress, anger and frustration, and on top of that, being isolated during the pandemic," explains Deeannah Taylor, project manager for administrative, clinical and educational operations, and one of the group's founding members.
The B.A.G.'s inaugural meeting enthusiastically welcomed 24 employees eager to explore the first established safe space of this kind at the Institute. Attendance has only grown since then. The group sends out a monthly newsletter—highlighting members, meetings, reflections and more—to keep everyone connected. They also meet in person several times a year for events, celebrations and community service opportunities, including a successful coat drive this past winter.
"While we live in different counties, we work primarily in Baltimore City," explains Shellie Williams, vice president of nursing, chief nursing officer and the group's faculty sponsor. "Volunteering in the city aligns who we are as individuals with who we are as professionals."
The B.A.G. has also played an important role in developing a new mentorship initiative, Building Leaders Inside and Out (BLIO), working with representatives from the Institute's Neurodiversity at Work program, Human Resources department, administration team, and Office for Health, Equity, Inclusion, and Diversity. BLIO consists of two branches: Building Within, led by Tracee Hutt-Brown, assistant clinical director of the Institute's Psychiatric Mental Health Program, focuses on mentoring current employees, while Building the Bridge, led by senior physical therapist Dr. Nia Wallace Ward, turns its attention toward mentoring Baltimore City high school students, strengthening the relationship between Kennedy Krieger and the community.
This community is amazing." – Jasmine Preston
The B.A.G. now numbers more than 100 members, with varying years of service, spanning different roles and departments, and representing the Institute's 20-plus locations. "We really are a village," says Hutt-Brown, "and we're all about supporting each other and saying, 'Yes, you matter.'"
"We appreciate the support and encouragement of senior leadership in providing this invaluable resource for employees," adds Chidi Agha, financial manager for the Institute's Behavioral Psychology Department, "and we share in the Institute's excitement in the development of additional employee resource groups."