Kennedy Krieger Institute celebrated Lainy LeBow-Sachs, the Institute's former vice president for external relations, and her 23 years of dedicated service to Kennedy Krieger at an annual event—this year titled "A Celebration of Giving"—honoring Kennedy Krieger's most dedicated donors and supporters.
The event took place on May 23 in the Arnold J. Capute, MD, MPH, Conference Center at Kennedy Krieger Institute's new Harry and Jeanette Weinberg Building at 1741 Ashland Avenue, which functions primarily as an outpatient center. The event served as the 23rd annual Kennedy Krieger Society Reception, honoring a distinguished group of donors who each make an annual gift of $1,000 or more to the Institute. It also honored those who contributed time, energy and funds to building the new outpatient center.
Nancy S. Grasmick, EdD, chair of the Kennedy Krieger Institute Board of Directors, kicked off the reception by welcoming and thanking guests for attending and providing invaluable support to the Institute. Bradley Schlaggar, MD, PhD, Kennedy Krieger's president and CEO, and Mike Batza, a longtime board member and former chair of the Institute's board of directors, both took their turn at the podium to thank and honor all donors who have made contributions to the Institute over the years.
The program's focus then shifted to honoring and celebrating longtime Institute fundraiser Lainy LeBow-Sachs. For more than 23 years, Lainy's dedication to Kennedy Krieger allowed the Institute to grow exponentially, serving thousands more children and families every year. Lainy has also been a friend and supporter of all things Baltimore, the surrounding counties and the entire state, serving as special assistant to William Donald Schaefer, former governor of Maryland.
For more than 40 years, Lainy has been a voice for numerous cultural institutions and the Jewish community of Baltimore, raising millions in philanthropic and government support for the Institute and numerous other organizations in Baltimore. She has sat on countless nonprofit boards and has been honored with numerous accolades, including distinguished leadership and lifetime service awards from the Maryland Democratic Party, and an outstanding leadership award from the House of Ruth. Most recently, in 2017, Lainy was inducted into The Baltimore Sun's Business and Civic Hall of Fame.
During Lainy's career at Kennedy Krieger, she led three capital campaigns that, collectively, raised $117 million for the Institute. With her guidance, Kennedy Krieger's famed Festival of Trees grew to become the largest fundraising event of its kind on the East Coast.
A high point of the "Celebration of Giving" event was the gathering of several dignitaries and government officials, including Senator Ben Cardin and his wife, Myrna; Senator Chris Van Hollen; Congressman Dutch Ruppersberger; and Maryland Delegate Talmadge Branch, each offering Lainy well-wishes and praise.
"I think it's clear to say that a large measure of the incredible success that Kennedy Krieger has had over the past 23 years is because Lainy LeBow-Sachs has poured her heart and her soul into this mission," Van Hollen said.
"Beyond the titles, beyond the awards, your life accomplishments have been based on the simple tenet that you care deeply for people and their lives," Ruppersberger added.
Turning to address everyone present, Ruppersberger continued: "I thank you all for supporting such a great institution that makes such a difference. You know we have Johns Hopkins, we have University of Maryland…Kennedy Krieger is right there and we are so proud of what you do here and throughout the country to help people."
The evening unfolded with many special presentations and honors, including the renaming of the Sterling Society, a celebrated giving club for loyal donors who have been giving to the Institute for 25 years or more, to "The Lainy LeBow-Sachs Sterling Society," and the creation of "The Lainy LeBow-Sachs Children's Fund," which will help fund critical needs, such as purchasing the latest and best equipment, and covering costs not always supported by insurance or school systems.
Lainy was also awarded the prestigious Zanvyl Krieger Award, which is given to extraordinary people who, like its namesake, have given a lifetime of service, exceptional love and generosity to the children of Kennedy Krieger. The evening concluded with the presentation of a special scrapbook featuring well-wishes, fond memories, heartfelt sentiments and photographs from people with whom Lainy has worked during her many years as a fundraising legend (and friend!) at the Institute.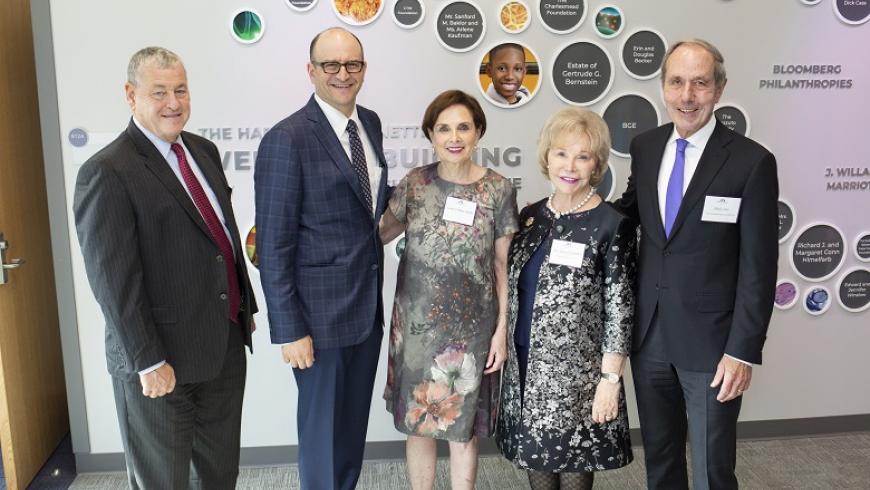 Kennedy Krieger Leadership with Lainy LeBow-Sachs.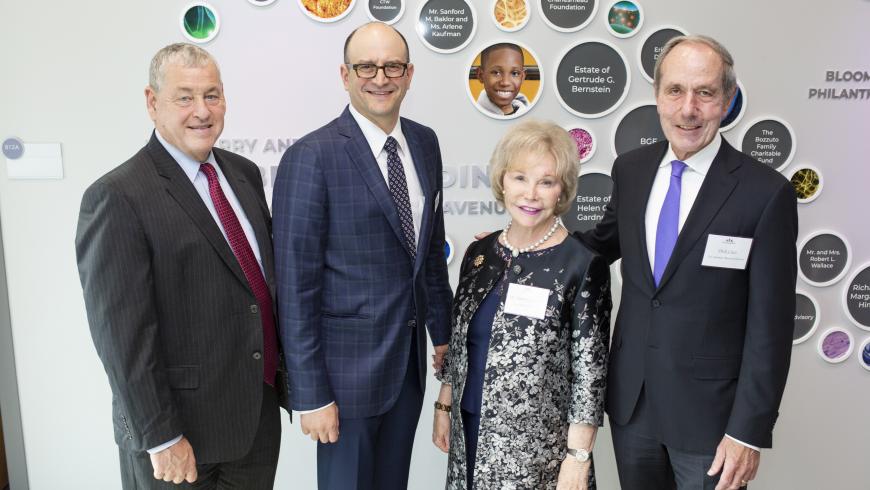 Kennedy Krieger Leadership at the celebration.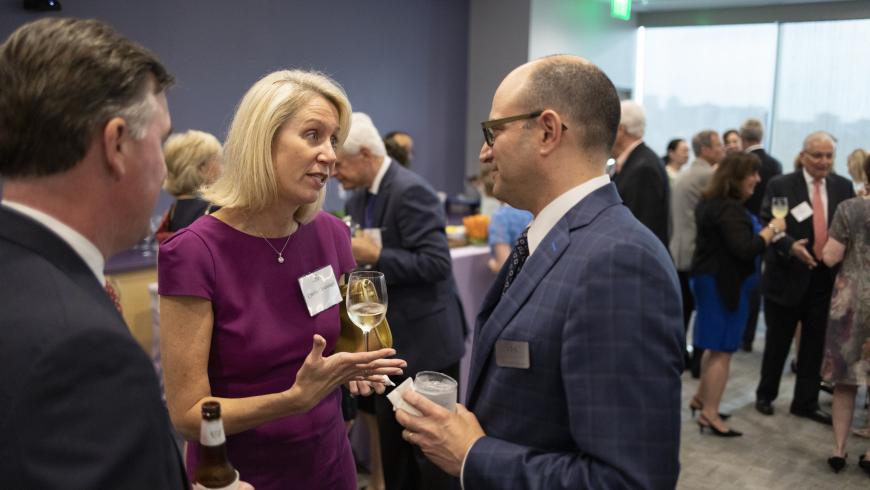 Guests speaking with Dr. Schlaggar.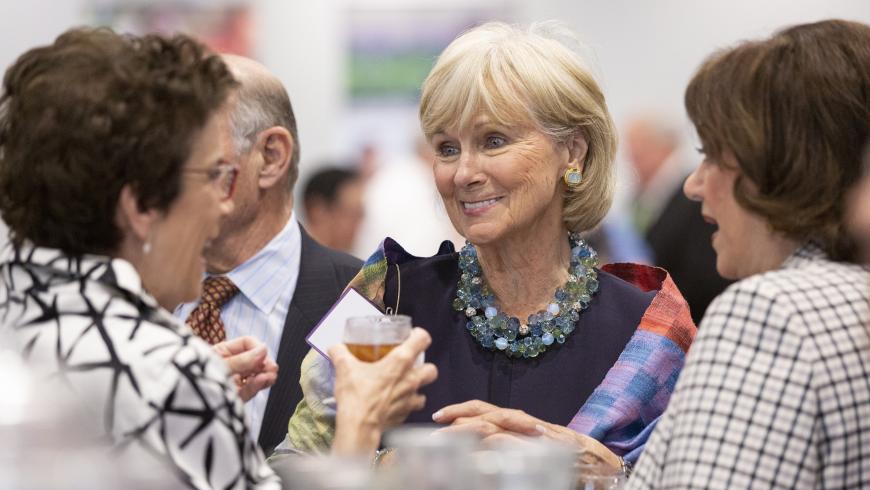 Guests enjoying the reception.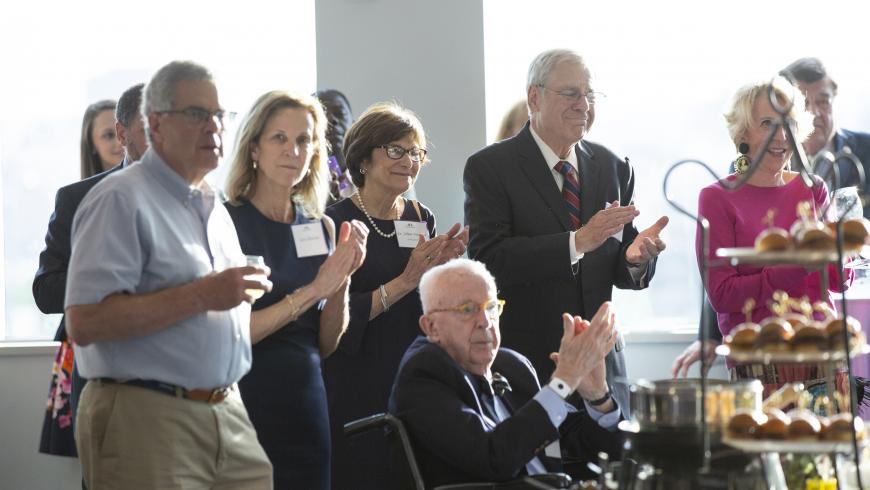 Guests watching the presentation.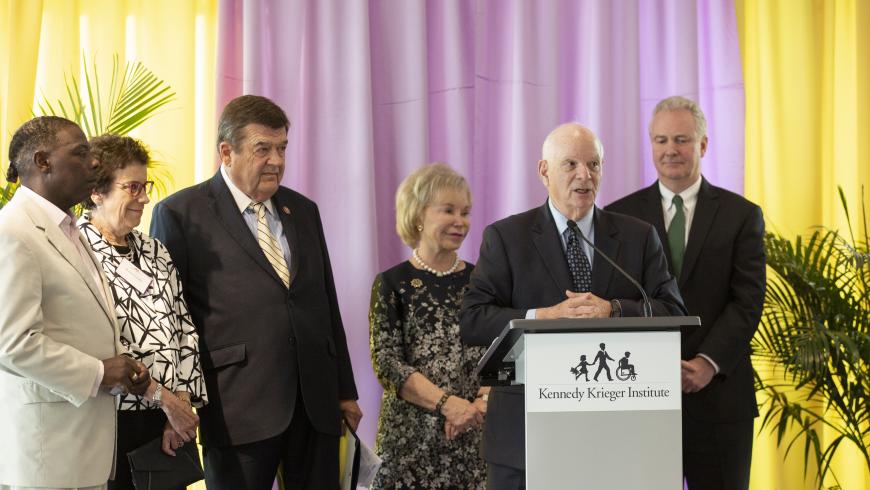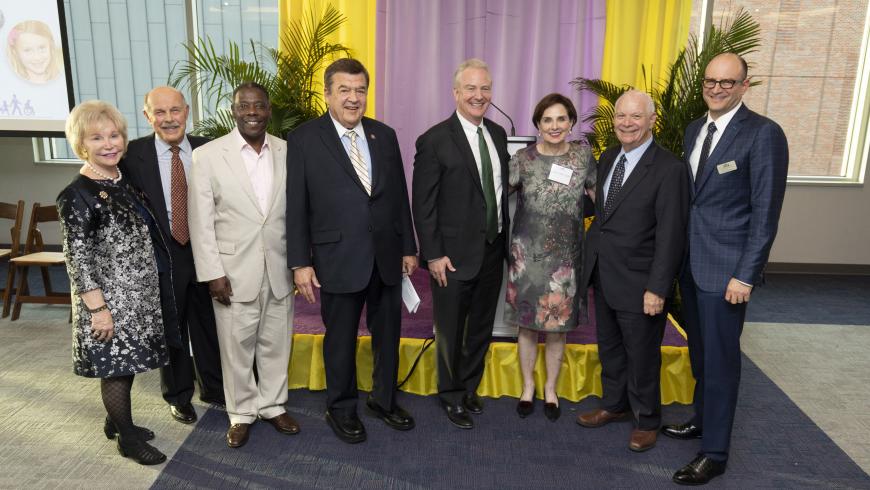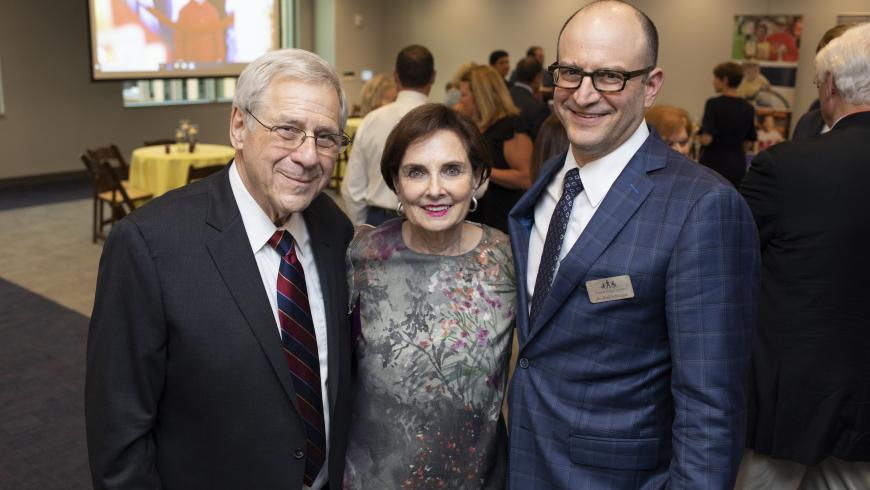 Dr. Goldstein, Lainy LeBow-Sachs, Dr. Schlaggar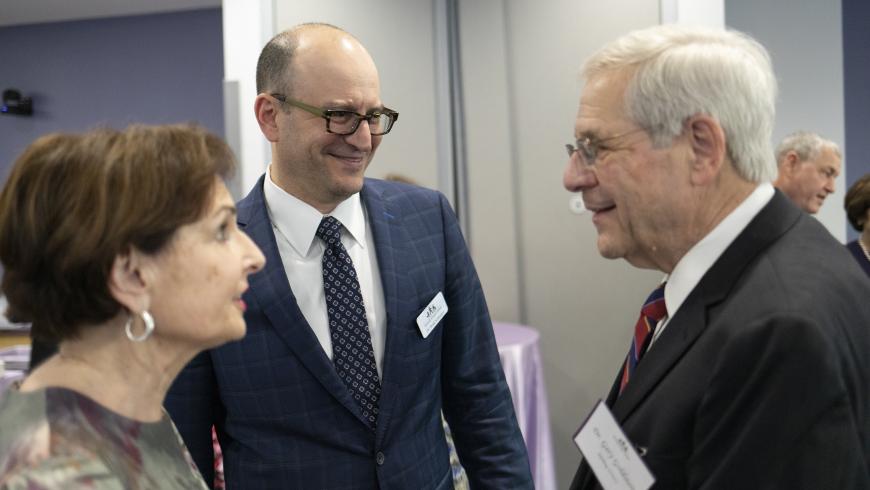 Lainy LeBow-Sachs, Dr. Schlaggar, Dr. Goldstein