Siblings Maggie and Matthew Schneider are amazing violinists. They practice for several hours a day, and they understand the value of hard work: To perfect a tricky passage, they'll practice it 10, 20, even 100 times in a row to ensure mastery. On a typical Saturday, they travel to New York City to attend lessons and classes with Manhattan School of Music's precollege program, and return to Baltimore in the evening.
But the reason why they are so dedicated to music may surprise you: They work hard so they can give back.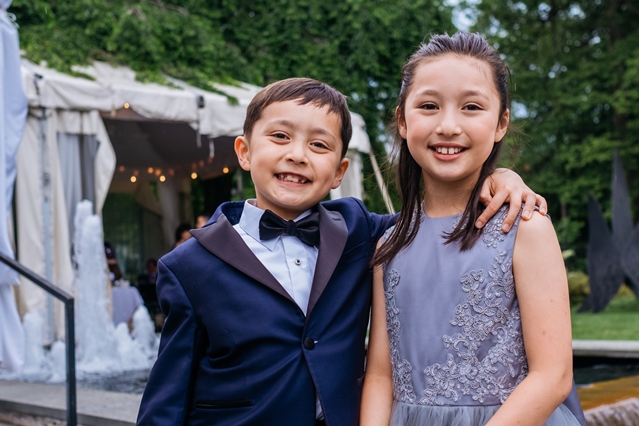 For the past couple of years, Maggie and Matthew have given a yearly concert at the Baltimore Museum of Art to benefit nonprofit organizations. Last year, they raised nearly $10,000 for Kennedy Krieger Institute, and plans are in the works for a second concert to benefit Kennedy Krieger.
"I like to know I'm making a change in the world with what I do," says Maggie, 10.
Their parents, Drs. Hyon and Jeffrey Schneider, discovered Maggie and Matthew had perfect pitch when the children were very young. Musical talent runs in the family; Hyon studied piano at The Julliard School for many years before attending college.
But Hyon and Jeffrey wanted their children to have a reason for practicing music. "They practice because their concert is coming up," Hyon says. "They've made the commitment. When you direct your life toward a goal that is bigger than yourself, life has so much more to give back."
Hyon and Jeffrey also hope Maggie and Matthew will inspire other children to think about ways to make a difference. "They're our next generation," Hyon explains. She and Jeffrey have brought Maggie and Matthew to a variety of nonprofit organizations, including Kennedy Krieger, to learn about opportunities to make a difference, empowering them to use their talents for the greater good.
"There are lots of ways to make a difference."
– Matthew Schneider
"I like to know I'm making a change in the world with what I do."
– Maggie Schneider
"I like the idea of donating to Kennedy Krieger because when we visited … we saw all of the cool things they're using to help people," says Matthew, 9.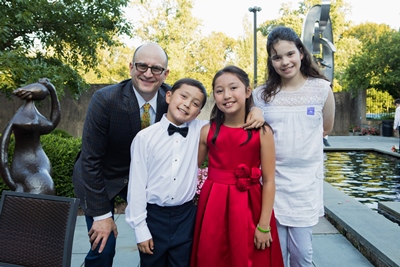 Outside of school and music, Maggie enjoys ballet and jazz dance classes, and Matthew plays water polo and likes fixing up and riding four-wheeled motorized vehicles. Both are avid swimmers and squash players.
They insist that anyone can make a difference—no matter how young they are. "There are lots of ways," Matthew explains. "You could choose a charity to donate to," Maggie adds. "Look at what organizations need help the most."
Or you could just make signs and encourage whatever you're encouraging," Matthew says. "Some people might think, 'Well, I don't have this talent, so I can't do anything.' But that's not true. There are so many possibilities.
Learn how you can join Maggie and Matthew in their support for Kennedy Krieger.
Bottom photo: Bradley L. Schlaggar, MD, PhD, president and CEO of Kennedy Krieger; Matthew Schneider; Maggie Schneider; and Lena Schlaggar at the reception following Maggie and Matthew's 2019 benefit concert