It all started with a phone call nearly a decade ago. Matt Dent's investment firm had been sponsoring Kennedy Krieger Institute's annual Festival of Trees fundraiser for several years, and Lainy LeBow-Sachs, the Institute's then senior vice president of external relations, wanted Matt and his wife, Dulany, to take a tour of Kennedy Krieger.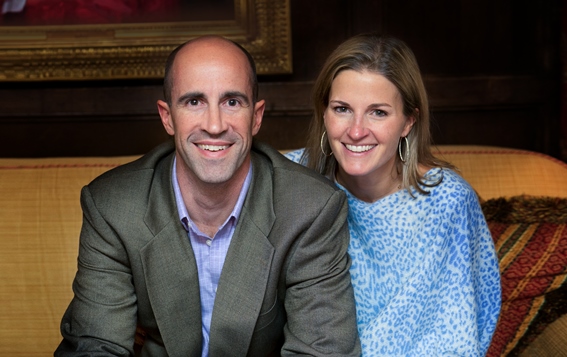 Dulany and Matt were overwhelmed by what they saw on their tour. "The breadth of expertise, and all of the support available to the children was amazing," Dulany says. "You could really see and feel the patience, care and passion of everyone working there."
By the end of their tour, they knew they wanted to support Kennedy Krieger however they could. Matt, who was getting ready to run the marathon in the Baltimore Running Festival, worked with Kennedy Krieger's Office of Philanthropy to set up a webpage to raise money—ultimately, more than $7,000 that year—and awareness for the Institute through his run.
"I really enjoy working with the kids and helping put a smile on their faces."
– Dulany Dent
"Seeing the children in Kennedy Krieger's hospital, many of whom couldn't go outside to run, I thought, 'Maybe I could help them in some small way, by raising money through running,'" Matt says. Team Kennedy Krieger formed the next year to follow in Matt's footsteps. Since its founding, the charity team has raised close to $1 million for the Institute.
Dulany became a founding member of the Women's Initiative Network (WIN) for Kennedy Krieger, which raises money and awareness for the Institute. She served as the organization's first formal president, and she and Matt are frequent attendees and sponsors of WIN events such as Hats & Horses and the Wine Walkabout. "Every year, we make sure we give to Kennedy Krieger," Dulany says.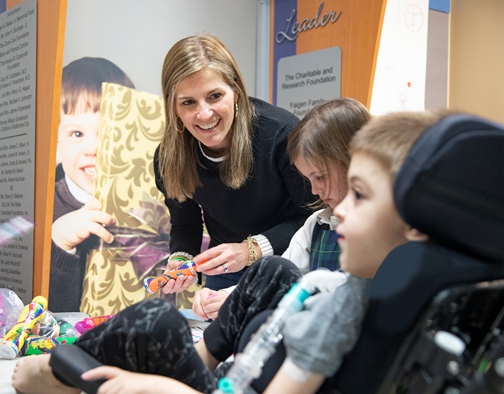 Dulany also enjoys volunteering with WIN in the Institute's Child Life and Therapeutic Recreation Department. "The kids are working so hard in rehab, but in the Child Life room, they can switch gears and have fun," Dulany says. Dulany's business, The Nanny Network, occasionally provides free childcare to siblings of patients at Kennedy Krieger.
Dulany and Matt's three children also volunteer for Kennedy Krieger. They've been members of Team Kennedy Krieger at the Baltimore Running Festival and have volunteered at many events for patients and their families.
"It helps them be more appreciative of what they have, health-wise," Matt says. "To be honest, I feel like we're getting more out of our experience with Kennedy Krieger than Kennedy Krieger is getting out of us!"