Wilfreda
Lindsey
,
MD, MS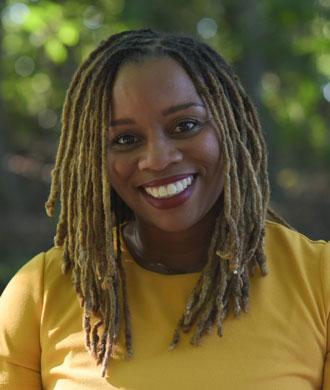 Director, Angelman Syndrome Clinic
Kennedy Krieger Institute
801 North Broadway
Baltimore, MD 21205
United States
About
Dr. Wilfreda Lindsey is a clinician in the Neurology and Neurogenetics Clinic at Kennedy Krieger Institute and an assistant professor in the Neurology Department at the Johns Hopkins University School of Medicine. She serves as the director for the Angelman Syndrome Clinic and also sees patients in the Sickle Cell Neurodevelopmental Clinic as well as the Fragile X Clinic. Dr. Lindsey is dedicated to providing age, developmentally and culturally appropriate care for individuals with neurodevelopmental disabilities across the lifespan.
Education
Dr. Lindsey received her Bachelor of Science from Rhodes College in Memphis, TN, before completing a Master of Science at Mississippi College in Clinton. She would later earn a Doctor of Medicine at University of Mississippi Medical Center, while serving a pediatrics residency at Louisiana State University Health Science Center in New Orleans. Dr. Lindsey also served as a Child Neurology Chief Resident Pediatrics Residency and completed a Neurodevelopmental Disabilities Fellowship at Baylor College of Medicine/Texas Children's Hospital in Houston.
Research Summary
Dr. Lindsey's research interest is in the transition of care from child- to adult-based healthcare in individuals with neurodevelopmental disabilities especially those with neurogenetic syndromes.
Research Publications
Ferrante, Leah, Melendez-Zaidi, Alexandria, Lindsey, Wilfreda and Lotze, Timothy. "Novel Use of Nusinersen as a Therapeutic Bridge to Onasemnogene Abeparvovec‐Xioi in a Premature Neonate with Type 1 Spinal Muscular Atrophy." Muscle & Nerve, vol. 66, no. 2, 2022, https://doi.org/10.1002/mus.27648.
Janicki, Matthew P., et al. "Examining Older Adults with Neuroatypical Conditions for MCI/Dementia: Barriers and Recommendations of the Neuroatypical Conditions Expert Consultative Panel." Alzheimer's & Dementia: Diagnosis, Assessment & Disease Monitoring, vol. 14, no. 1, 2022, https://doi.org/10.1002/dad2.12335.
Sanders, Jessica, Lindsey, Wilfreda, Vivanti, Giacomo and Wallace, Gregory. Autism Spectrum Disorder. In Examining Adults with Neuroatypical Conditions for MCI/Dementia During Cognitive Impairment Assessments: Report of the Neuroatypical Conditions Expert Consultative Panel. https://www.lumindidsc.org/s/1914/images/gid2/editor_documents/blog/research_spotlight/examining_neuroatypical_adults-cia-final-d-7_1_22.pdf?gid=2&pgid=61&sessionid=d04ff021-959f-4be6-83c7-20afc2954a19&cc=1. 1 July 2022.
Nascimento, Fábio A., Lindsey, Wilfreda, Hunter, Jill, Risen, Sarah. "Teaching Neuroimages: Spinal Cord Infarct Due to Fibrocartilaginous Embolism in an Adolescent." Neurology, vol. 94, no. 23, 2020, https://doi.org/10.1212/wnl.0000000000009600.