Suzanne
Venoski Rybczynski
,
MD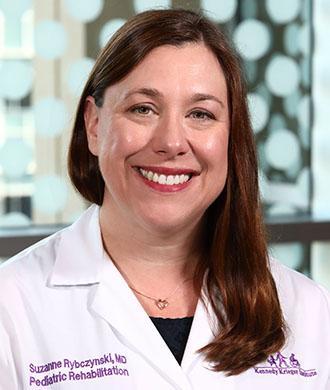 Associate Chief Medical Officer
Kennedy Krieger Institute
707 N. Broadway
Baltimore, MD 21205
United States
About
Dr. Rybczynski is Associate Chief Medical Office and the Medical Director of the Pediatric Rehabilitation Unit (PRU) at Kennedy Krieger Institute. She is a faculty member at Kennedy Krieger Institute and an Assistant Professor of Pediatrics at the Johns Hopkins School of Medicine.
Education
Dr. Rybczynski received a Bachelor's of Arts in history from the University of Mississippi in 1991 and her Doctorate of Medicine from the University of Mississippi School of Medicine in 1995. She completed her residency in pediatrics at the University of Texas Southwestern Medical School in Dallas, Texas in 1998. Following her residency, she worked as an attending physician at Children's Medical Center of Dallas. She then spent a year as a consultant pediatrician at Mersey Community Hospital in Latrobe, Tasmania, Australia. Following her time in Australia, Dr. Rybczynski returned to her hometown in upstate New York and worked as a general pediatrician for six years. She then moved to Maryland and worked as a general pediatrician and pediatric hospitalist prior to joining the faculty at Kennedy Krieger Institute in 2008.
Dr. Rybczynski is board-certified by the American Board of Pediatrics. She is a fellow of the American Academy of Pediatrics.
Dr. Rybczynski provides pediatric care to patients on the inpatient comprehensive neurorehabilitation service at Kennedy Krieger Institute. Her clinical interests include spinal cord injury, traumatic brain injury, pediatric pain rehabilitation and post-orthopedic surgery rehabilitation.
Research Publications
Rybczynski S, Dean J, Melicosta M.  Pediatric Spinal Cord Injury Due to Acute Flaccid Myelitis: Epidemiology, Clinical Management, and Implications for Rehabilitation, Current Physical Medicine and Rehabilitation Reports, 2017
Rybczynski S, Katz E, Schultz S, Salorio C (2016). Survey of parental acceptance of massage therapy, energy therapy and acupuncture for their children in the acute pediatricinpatient rehabilitation setting. Complement Ther Med. 27, 102-7. Abstract
DiPietro E, Prestwich S, Swearingen T. Medical Emergency Team:  Transitioning from an external response team to an internal response team. Rehabilitation Nursing, 2014; 39, 94-101.
Celedon X, Amari A, Ward C, Prestwich S, Slifer K Children and Adolescents with Chronic Pain and Functional Disability: Use of a Behavioral Rehabilitation Approach, Current Physical Medicine and Rehabilitation Reports, 2014; 2, 86–92
Book Chapters
Mc-Grath-Morrow S, Prestwich S, Chapter 16: Neuromuscular Disorders, Neonatal and Pediatric Respiratory Care: A Patient Case Method; Editor: Julianne Perretta, MSEd, RRT-NPS, 2014
Trovato M, Schultz S, Prestwich S, Graham R,  Bosques G, Kramer M,  Sadowsky C, Pidcock F. Chapter 13: Rehabilitation of a Child with Critical Illness, Rogers Textbook of Pediatric Intensive Care: 6th edition, Editors:  Donald H. Shaffner MD,  David G. Nichols MD, 2016