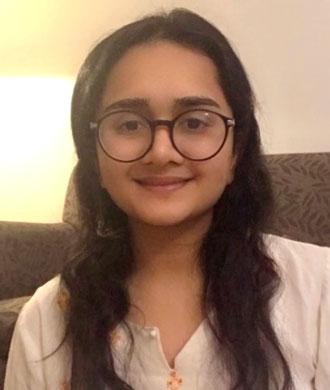 Research Assistant II
About
Nishta Amin joined the Neuropsychology Department at Kennedy Krieger Institute as a research assistant in 2022. She is currently the research outcomes assessor and coordinator for a multi-site clinical trial on therapeutic hypothermia following pediatric cardiac arrest. Nishta also assists with recruitment, data collection and data entry for other projects at the Brain Injury Clinical Research Center.
Education
Amin graduated from Macalester College with a BA Psychology.
Research
As an undergrad, Amin was a Research Assistant at the University of Minnesota and at Macalester College, working on projects studying anxiety, depression and non-suicidal self-injury in adolescents. In her final year of college, after completing an internship with the Mental Health Minnesota, she wrote her senior thesis on the specific needs of survivors of intimate partner violence who have sustained and seek treatment for head injuries. Prior to joining Kennedy Krieger, Nishta worked at the University of Maryland as a Research Assistant on projects studying addiction and psychosis.