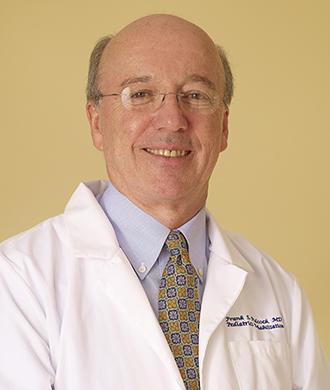 Physician, Rehabilitation
Kennedy Krieger Institute
707 N. Broadway
Baltimore, MD 21205
United States
About
Dr. Frank S. Pidcock is a physician in the Department of Rehabilitation at the Kennedy Krieger Institute and Director of the Pediatric Rehabilitation Division in the Department of Physical Medicine & Rehabilitation, Johns Hopkins Hospital and University School of Medicine. He is an associate professor of physical medicine and rehabilitation and an associate professor of pediatrics at Johns Hopkins University School of Medicine.
Education
Dr. Pidcock attended the Johns Hopkins University before going on to medical school at the Hahnemann Medical College in Philadelphia, Pennsylvania, from which he graduated in 1977. His post-doctoral training includes a pediatric residency at Hahnemann University Hospital from 1979 to 1981, a developmental pediatrics fellowship at St. Christopher's Hospital for Children from 1979 to 1981 and a rehabilitation medicine residency at Thomas Jefferson University Hospital from 1991 to 1994.
Dr. Pidcock was the director of the pediatrics program at Children's Rehabilitation Hospital in Philadelphia from 1987 until 1991. After completing a residency in rehabilitation medicine in 1994, Dr. Pidcock joined the medical staff at the Kennedy Krieger Institute as the associate director of the pediatric rehabilitation program. Dr. Pidcock is an attending physician at both Johns Hopkins Hospital and Kennedy Krieger Children's Hospital. He is board certified in physical medicine and rehabilitation, pediatric rehabilitation medicine and pediatrics.
Dr. Pidcock is the medical director of the Kennedy Krieger Institute Constraint Induced Movement Therapy (CIMT) Program and the fellowship training program in pediatric rehabilitation medicine. He is on the medical advisory board of the Transverse Myelitis Association.
Research
Dr. Pidcock's clinical research focuses on developing treatment and evaluation protocols for constraint induced movment therapy applied to children with hemiparesis. He also evaluates intervention strategies for children with spasticity, especially medicinal botulinum toxin injections.
Related Links
Elsevier Fingerprint Engine Profile for Frank S. Pidcock
Research Publications
Pidcock FS, Salorio C, Bibat G, Swain J, Scheller J, Shore W, Naidu S (2016). Functional outcomes in Rett syndrome. Brain Dev. 38(1), 76-81.