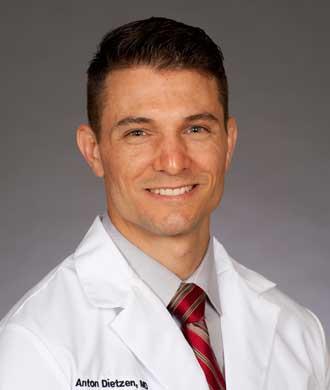 Pediatric Physiatrist
Kennedy Krieger Institute
707 North Broadway
Baltimore, MD 21205
United States
About
Dr. Anton Dietzen is a pediatric physiatrist at Kennedy Krieger Institute and Johns Hopkins Hospital. He is also the director of the Fit and Healthy Clinic at Kennedy Krieger and an assistant professor of Physical Medicine and Rehabilitation at the Johns Hopkins University School of Medicine.
Education
Dr. Anton Dietzen is a Chicago native and was a member of the Big Ten Championship University of Illinois wrestling team. He practiced as a chiropractor for several years before medical school and completed his residency training at Northwestern's Marianjoy Rehabilitation Hospital where he was chief resident, before pursuing a fellowship at Kennedy Krieger Institute/Johns Hopkins University.
Above all, Dr. Dietzen values compassionate, thorough care with the goal of optimizing rehabilitation outcomes through evidence-based physiatrit care and lifestyle medicine principles.
Research
Dr. Dietzen's research interests include muscle physiology in congenital and acquired neurologic disorders, muscle stiffness and spasticity management, telehealth, obesity and lifestyle medicine, and the early identification and intervention of cerebral palsy.
Related Links