The Kennedy Krieger Institute's Phelps Center for Cerebral Palsy and Neurodevelopmental Medicine is proud of its long-standing tradition of treating children with cerebral palsy and other neurodevelopmental disorders.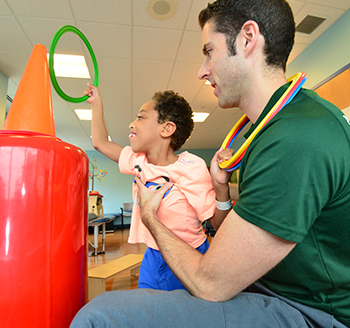 The Phelps Center specializes in the evaluation of infants and young children with developmental delays in motor, language or behavior and in the treatment—well into adulthood—of medically complex children with cerebral palsy.
Our treatment approach draws on the depth and breadth of expertise at Kennedy Krieger Institute and Johns Hopkins—from our renowned neurodevelopmental pediatricians, pediatric neurologists and neurosurgeons to dedicated therapists and rehabilitation specialists—all focused on addressing specific patient and family concerns and providing coordinated care for each patient and family.