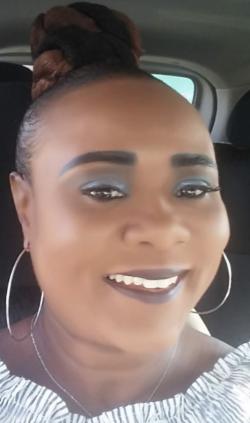 Meet Glorietta Friend, an Inpatient Unit Clerk who has worked at Kennedy Krieger for nearly 23 years. Glorietta is known at Kennedy Krieger as "Glo," an apt nickname for a woman who has brightened the lives of so many.
Thanks to her upbringing and inspiration from her mother, Glorietta has gone on to lead a life of selflessness. Outside of Kennedy Krieger, Glorietta's family runs BackCourt Foundation, Inc a nonprofit organization that helps improve the literacy skills of young children by donating 300-500 books per year to local families in need.
Glorietta is also the proud mother of two sons, whom she adopted. When he was young, Glorietta's oldest son was diagnosed with autism. Glorietta brought him to Kennedy Krieger, where he received services from our Pediatric Feeding Disorders Program. "It was such a rewarding experience as a parent to see my child feed himself," Glorietta recalls. "Now, when I see parents taking their children to the Feeding Program, I'm able to tell them, 'It's going to be okay.'"
Between her firsthand experience at the Institute and her personable nature, Glorietta has been a huge support system for the families that come through Kennedy Krieger's doors every day. "It's a monumental job," Glorietta says.
Today, Glorietta's days are busy, filled with balancing her roles as a mother, Kennedy Krieger employee, and nonprofit leader. "This journey has made me who I am," she says. "A dedicated healthcare provider caring for patients as a member of a team I call my family."
In celebration of #BlackHistoryMonth, we recognize Glorietta and the many selfless and dedicated Black medical professionals at Kennedy Krieger. Thank you, Glorietta, for being such a light for patients, families, and staff alike. We are so proud to have you in our family.